In the high-fashion world of interior design, the concept of a black accent chair is nothing less than a celebration of elegance, grace, and timeless style. Like a mysterious night sky, a black chair is often the touch that accentuates the sophistication of any room. It is a dance of harmony and contrast, a melding of function and form that conjures a dramatic statement.
Our curated collection of replicas transports you to an era of classic design, where the lines between function and form elegantly blur. Among our offerings, our quintessential black accent chairs stand as a testament to the incredible journey of design evolution.
Black Accent Chairs: More Than Just Seating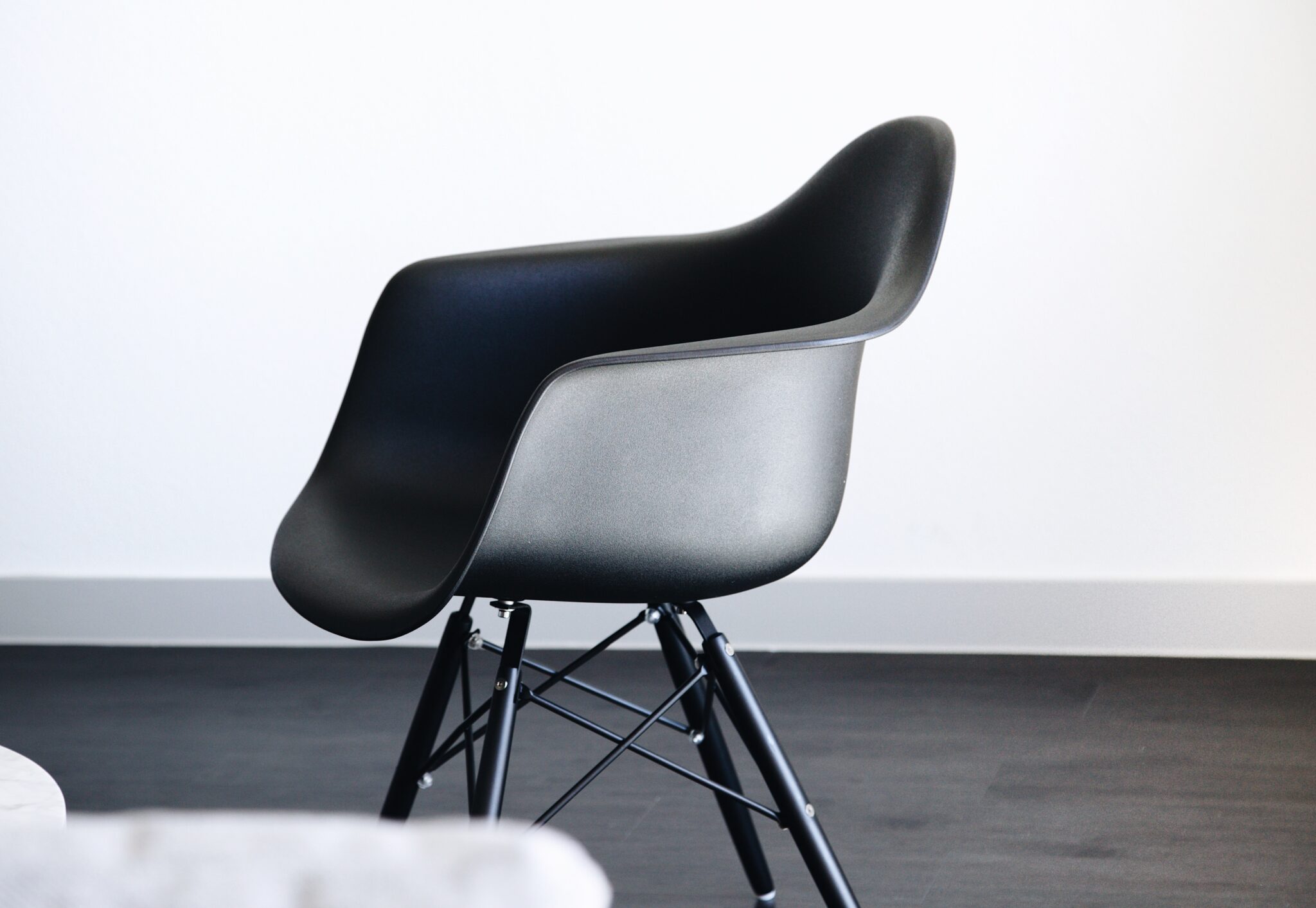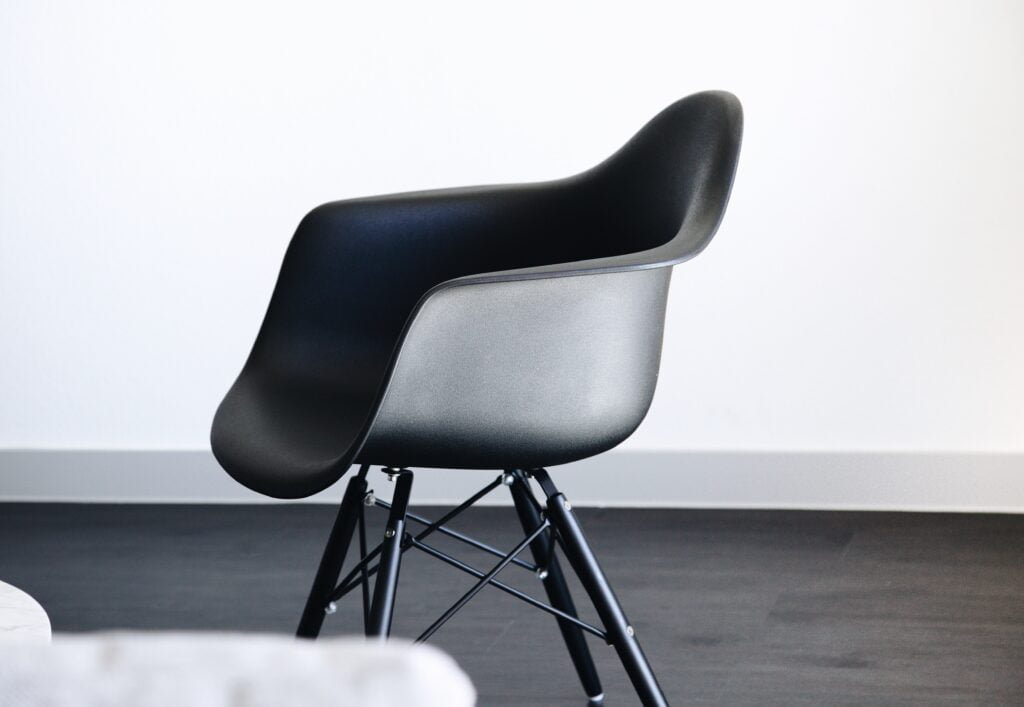 The character of a room is often dictated by its most striking feature, and nothing quite captures attention like a bold, black accent chair. Steeped in design history and backed by functionality, these chairs don't just provide seating; they create a dialogue within your space. Whether it is nestled in a cozy reading nook, elegantly punctuating a minimalist living room, or delivering a punch of panache to an office, the black accent chair is a decor element like no other.
Sohnne's Black Accent Chair Replicas
The Sohnne range of black accent chair replicas is handpicked to bring you the crème de la crème of timeless design.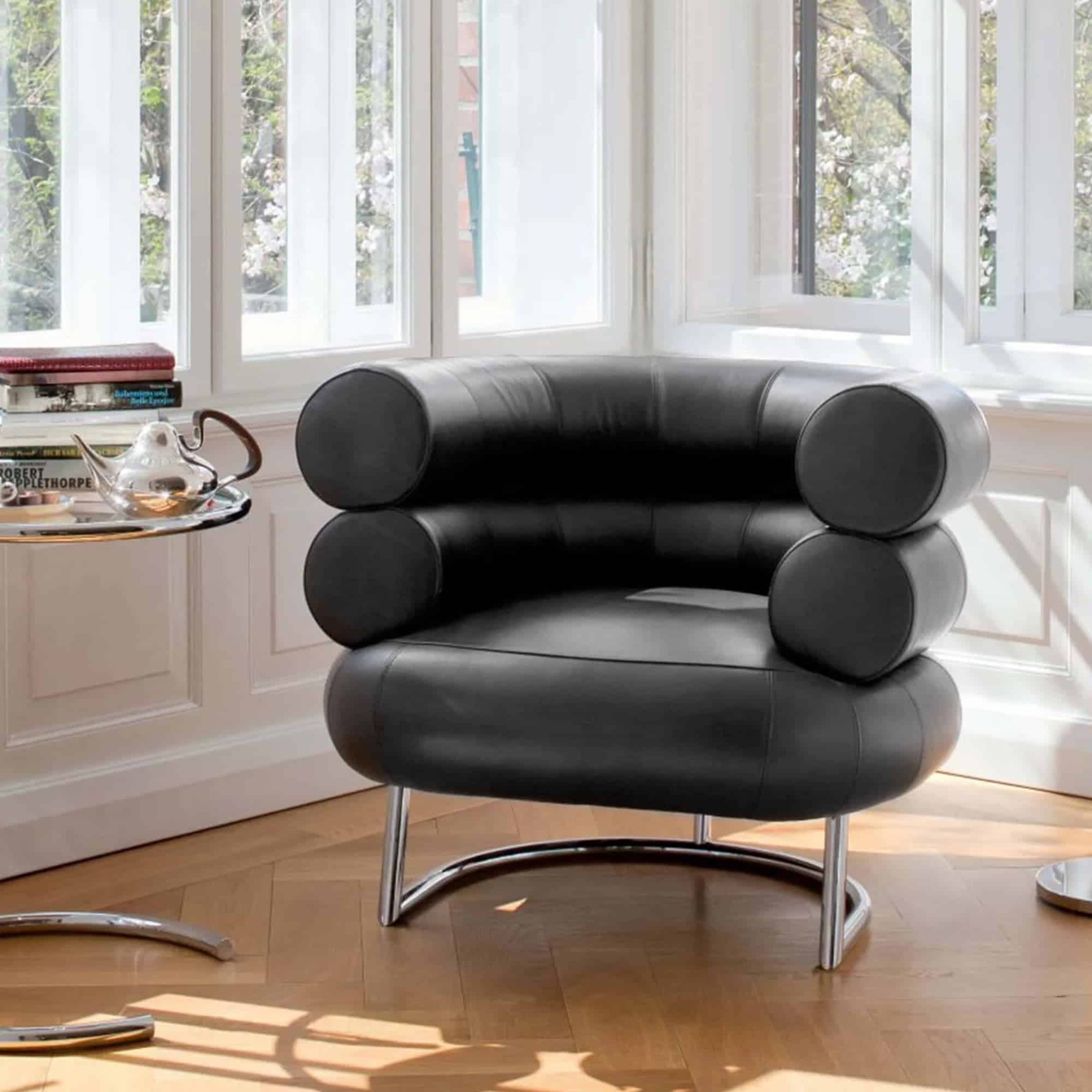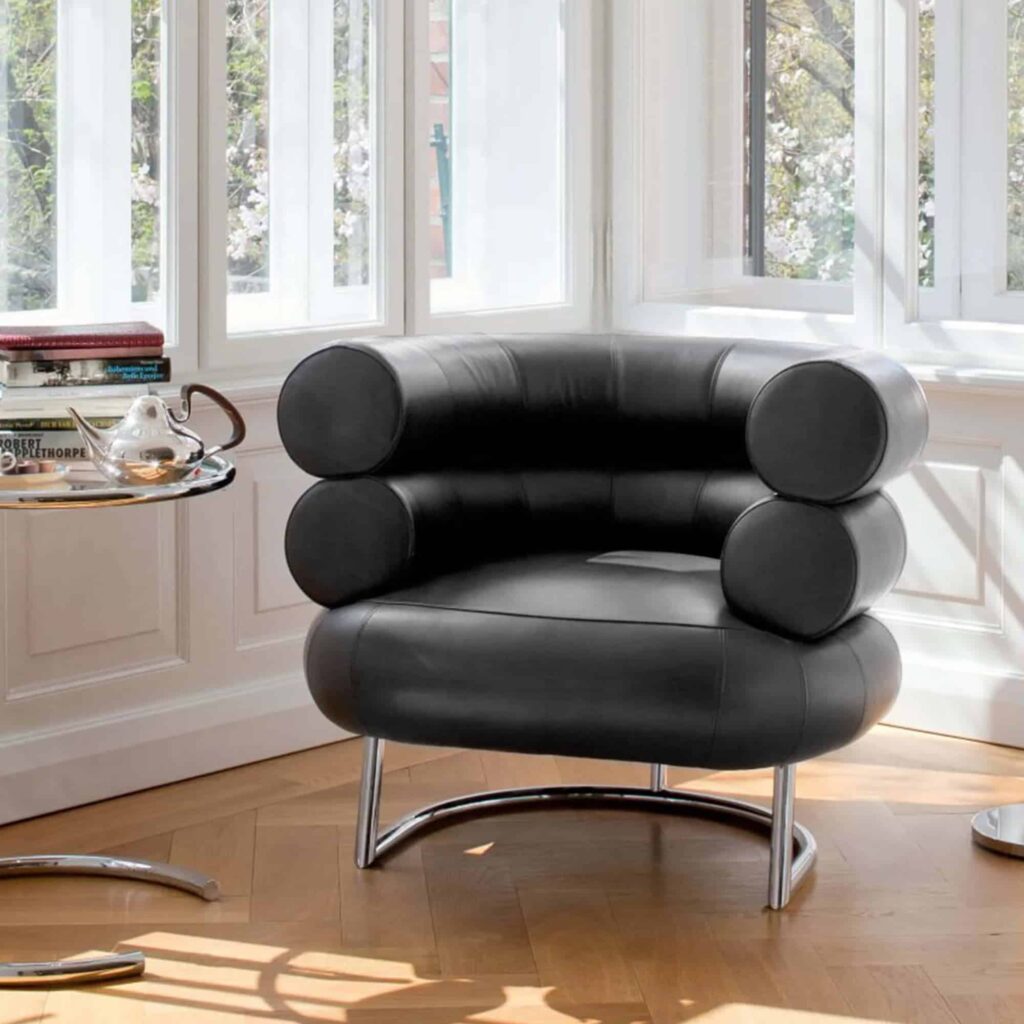 An ode to Eileen Gray's genius, the Bibendum Chair Replica, in sultry black, is a blend of artistic sensibility and unrivaled comfort. Its luxurious padding and broad, inviting shape are set off by a chrome-plated steel frame. This chair is a statement piece, its arresting presence demanding attention and admiration.
Chair Experience
When you first lay eyes on the Sohnne Bibendum Chair replica, you can't help but be captivated by its bold, inviting shape and undeniable presence. The chair's voluptuous curves and powerful silhouette reflect the modernist sensibility, with a nod to the historical influences that inspired Gray. Our choice of sumptuous black upholstery lends an aura of refined sophistication to this statement piece, making it the perfect anchor for any design-conscious space.
The Sohnne Bibendum Chair replica is a versatile design element that can seamlessly blend into various environments. Whether placed in a minimalist, contemporary living room or a cozy, traditional study, this black accent chair brings a distinctive charm that enhances its surroundings. In an office space, it stands as a symbol of creativity and daring. And in a residential setting, it adds a touch of luxe sophistication.
Rating: ⭐⭐⭐⭐ (4.7/5) | Style: Minimalist, Modern | Type: Armchair | Dimension: H 27.9″ x W 33.5″ x D 28.3″ inch | Upholstery material: Genuine Leather
Read More: 7 Best Modern Chrome Floor Lamps to Pick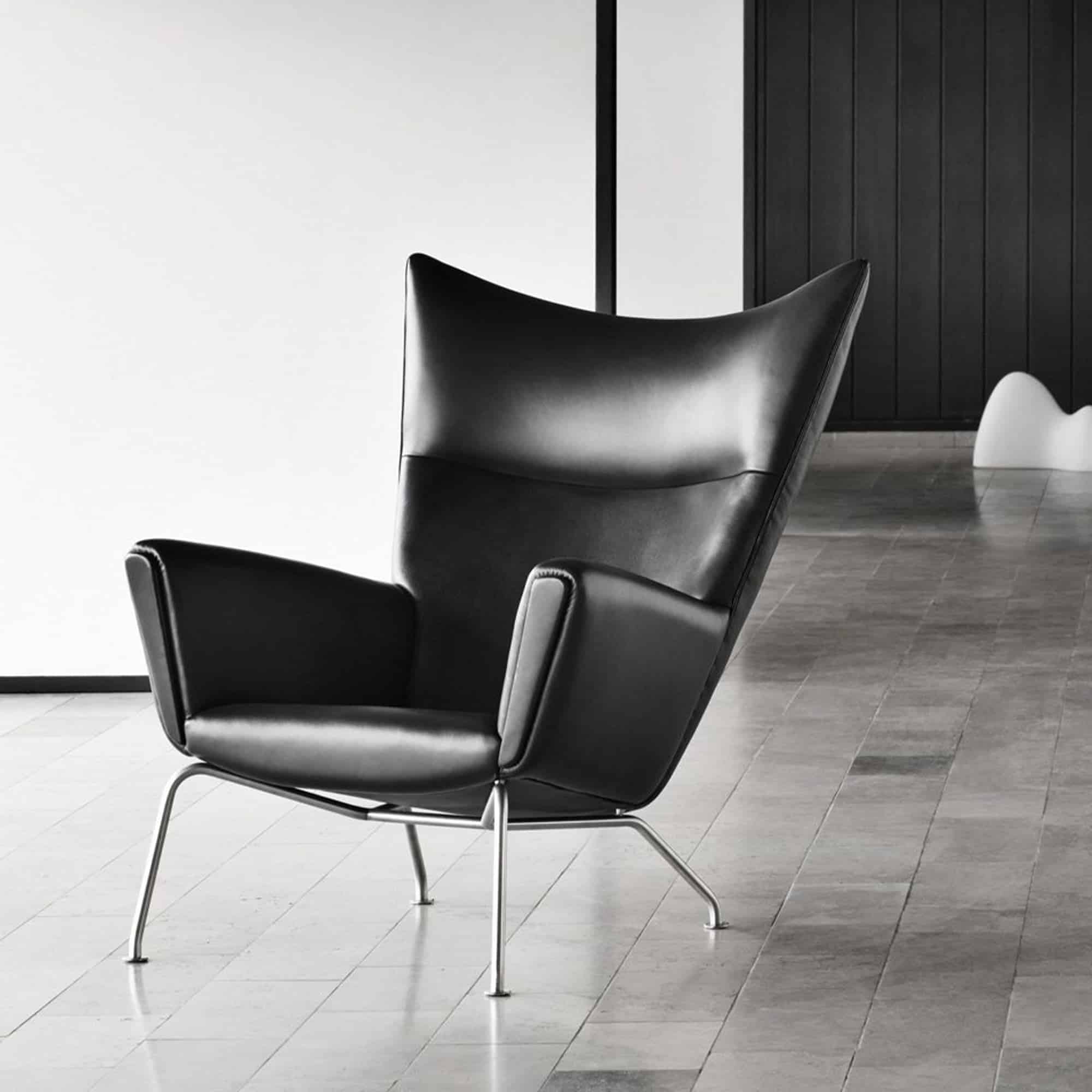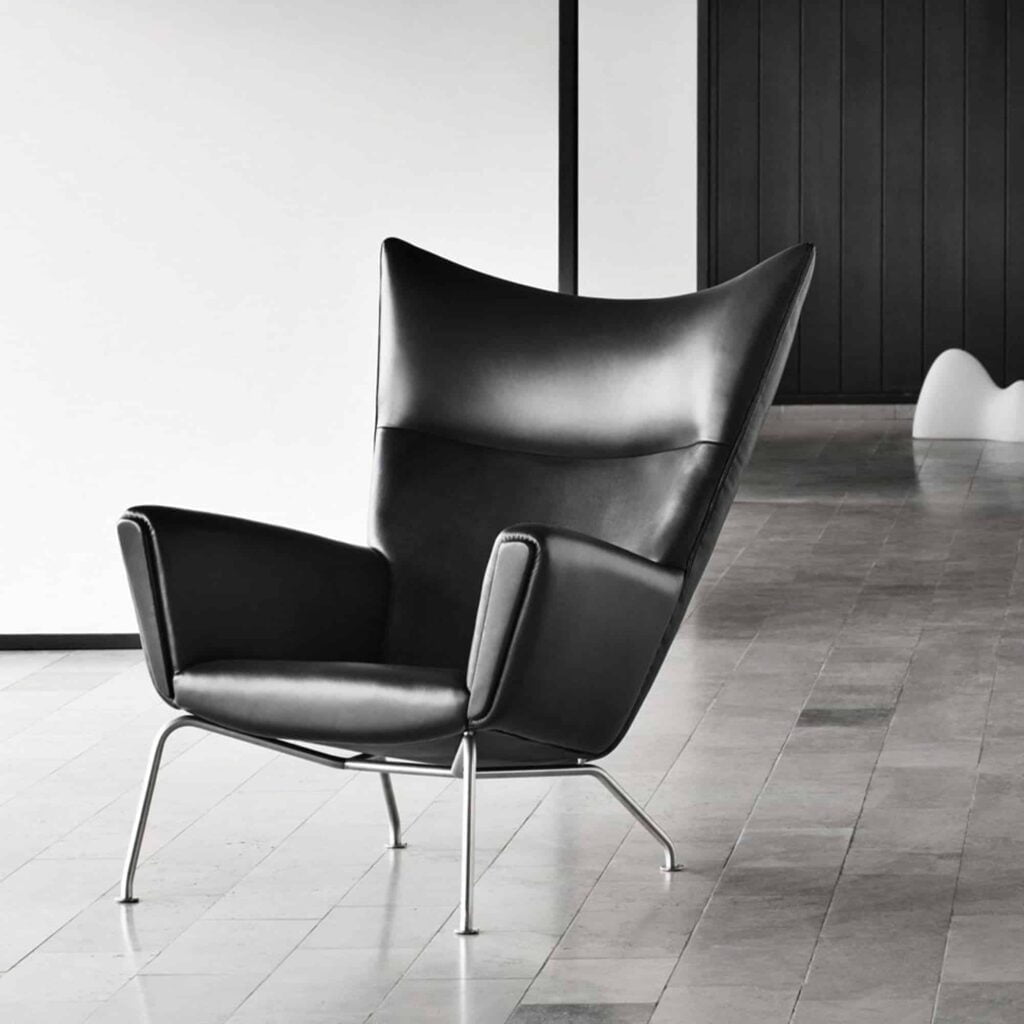 Our replica of Hans Wegner's iconic CH445 Wing Chair in Ebony is an instant upgrade to any space. The organic curves are upholstered in premium leather, providing an inviting nest of comfort. Its sturdy legs and characteristic high back offers both support and style, making it the perfect addition to your reading corner or lounge area.
Chair Experience
The CH445 Wing Chair, with its high back and winged sides, was conceived with the utmost consideration for the human body. The design gently envelops you, creating a personal retreat within your home. Sohnne's meticulously crafted replica strives to replicate this experience, marrying style with comfort.
As you sink into the plush, premium leather of our black CH445 Wing Chair Replica, you are met with a welcoming embrace. The chair's organic curves cradle your body, offering a sanctuary of relaxation. The wings, initially designed to protect from drafts and offer privacy in large rooms, cocoon you, creating an intimate space for relaxation or deep thought. It's easy to imagine losing yourself in a riveting novel or indulging in a warm drink, as you lounge in this chair.
Rating: ⭐⭐⭐⭐ (4.7/5) | Style: Modern | Type: Lounge Chair + Ottoman | Dimension: 35.4″ W x 35.4″ D x 40.6″ H Inch | Upholstery material: Genuine Leather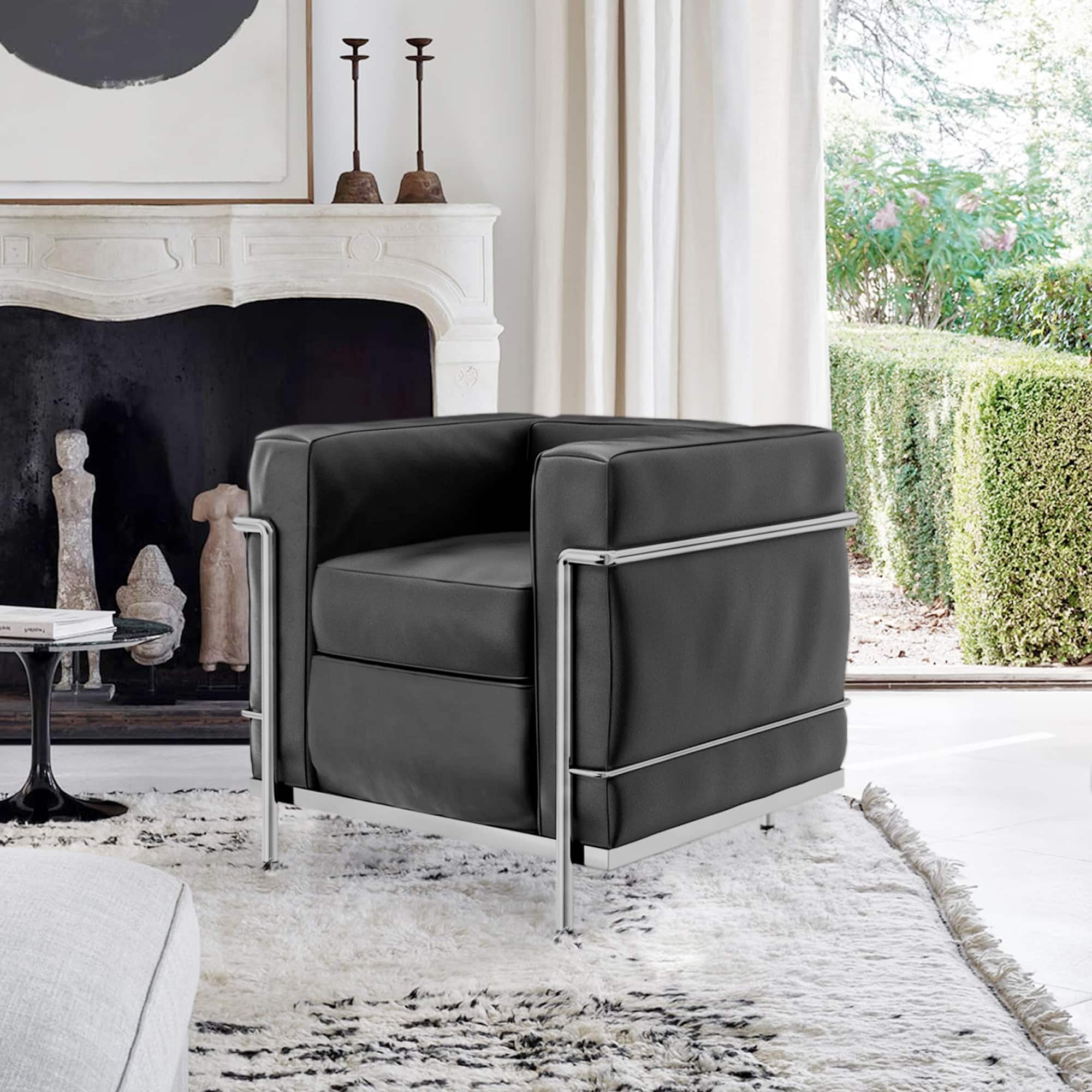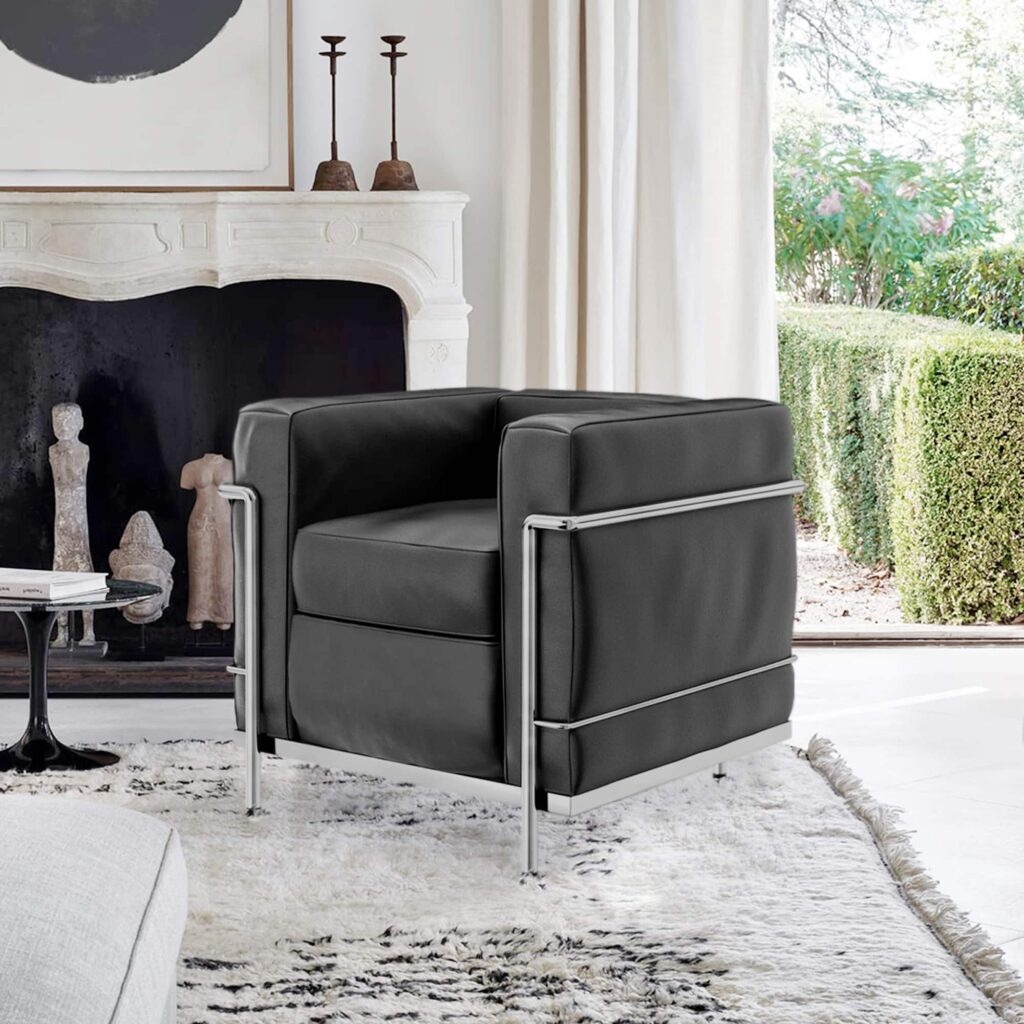 A masterpiece from the pioneering era of modern design, the Le Corbusier 2 Replica is minimalist personified. Its sleek black leather upholstery and chrome frame exude an understated elegance, making it a fitting choice for contemporary settings that value simplicity and class.
Chair Experience
From the moment your eyes settle on the chair, its minimalist design immediately stands out. The chromed steel frame, as lustrous as it is resilient, creates a striking contrast against the chair's rich, black leather upholstery. The uncluttered linearity of the frame perfectly complements the cubic simplicity of the cushions, embodying the essence of modernist design that Le Corbusier was known for.
In the spirit of Le Corbusier's philosophy of designing furniture to be "extensions of our limbs and adapted to human functions", this chair is crafted to not only suit your aesthetic preferences but to fit seamlessly into your everyday life. It creates a tranquil space where you can unwind, contemplate, or simply be.
Rating: ⭐⭐⭐⭐⭐ (5/5) | Style: Minimalist Modern | Type: Chair | Dimension: 31.49 W x 27.55 D x 27.55 H Inch | Upholstery material: Genuine Leather
Read More: 7 Best Sofa for Living Rooms with Any Style and Decor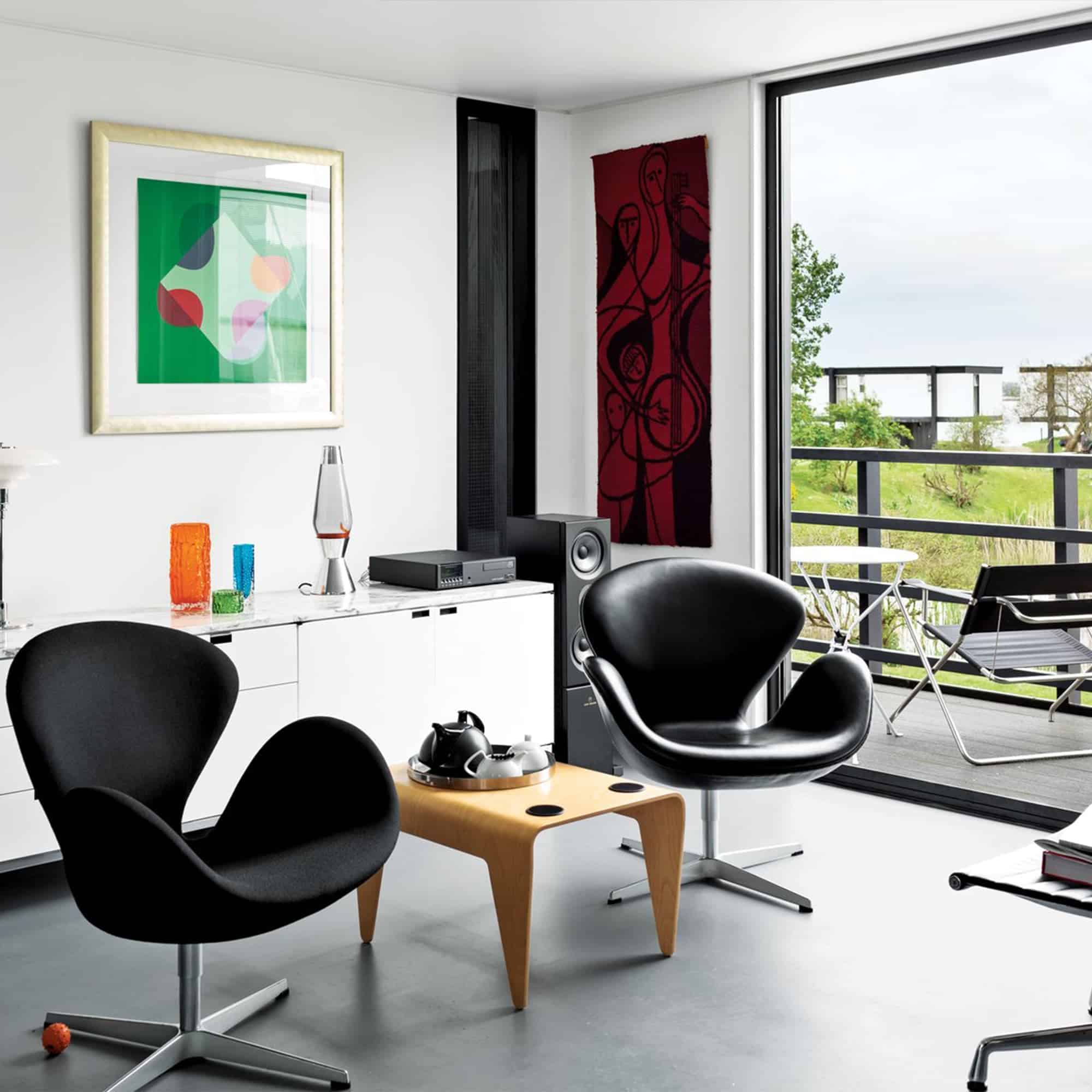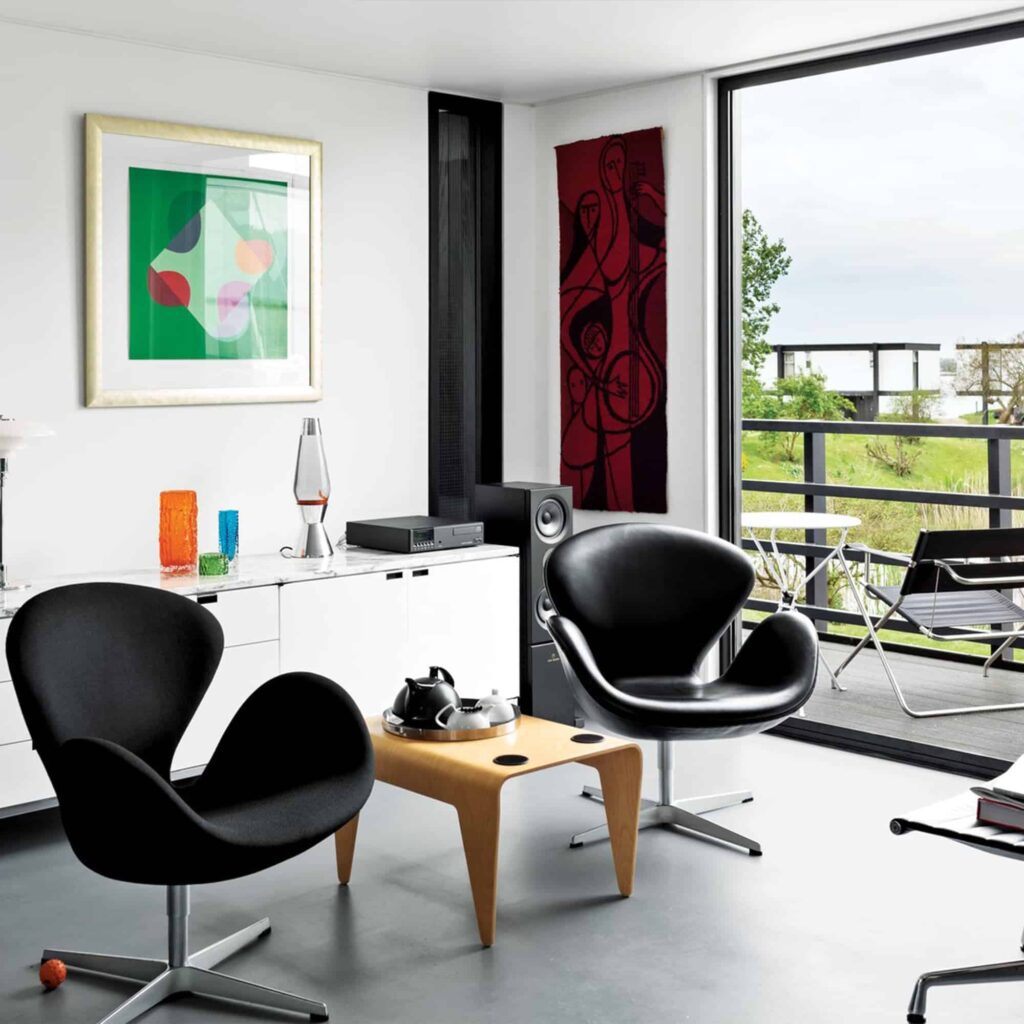 A tribute to Arne Jacobsen's revolutionary design is as much a sculpture as it is a chair. Its graceful, curved form is enveloped in sumptuous black upholstery, beckoning you to sink into its comfortable embrace. A stunning addition to your living room or office, it's a chair that promises style and luxury in equal measure.
Chair Experience
The first thing that captivates your attention is its distinctive shape. The graceful, swan-like curves of the chair pay homage to its namesake, wrapping around you in an inviting embrace. The contours are soft yet striking, ensuring this chair is a sculptural masterpiece that holds its own in any setting, from your living room to your office.
While its appearance is undoubtedly eye-catching, the Swan Chair Replica by Sohnne doesn't compromise on comfort. The chair's shell is padded generously, promising hours of relaxed seating. Whether you're immersed in a gripping novel, engaged in a stimulating conversation, or simply soaking in the quiet of the evening, the Swan Chair Replica offers a comforting embrace.
Rating: ⭐⭐⭐⭐ (4.7/5) | Style: Iconic Modern | Type: Swivel Chair | Dimension: 29.1″ x 26.8″ x 30.3″ inch | Upholstery material: Genuine Leather
Conclusion
In choosing a black accent chair from Sohnne, you don't just choose a piece of furniture. You choose a symbol of your taste and appreciation for the artistry of design. Each chair in our collection carries a story, an echo of the past that breathes life into your space. Embrace the timeless elegance of Sohnne's black accent chair replicas and let your decor speak volumes about your refined sense of style. You can still find other Sohnne chairs. Just feel free to visit sohnne.com to find out more.
FAQ