In the vast realm of furniture design, there are pieces that come and go, and then there are those that etch their mark into the annals of history. The Vitra Eames Lounge Chair belongs to the latter category. This iconic piece of furniture is not just a testament to innovative design but also a reflection of the era it was born in. Born in the mid-20th century, it encapsulates the spirit of innovation and the quest for comfort that defined the age.
The Vitra Eames is not just a chair—it's a symbol of sophistication, comfort, and a rich history. Its timeless appeal has made it a favorite among design enthusiasts and homeowners alike. Whether placed in a contemporary loft or a traditional study, it commands attention and evokes admiration.
---
What Makes a Perfect Lounge Chair?
A lounge chair is more than just a piece of furniture; it's a sanctuary of comfort in our homes. It's where we retreat after a long day, seeking solace and relaxation. But what makes a lounge chair truly stand out? What are the hallmarks of a design that promises both form and function?
Comfort: The primary purpose of any lounge chair is to provide a haven of relaxation. It should cradle the body, offering support where needed and ensuring that every moment spent on it is one of pure comfort.
Durability: A lounge chair is an investment. As such, it should be built to stand the test of time, crafted from materials that promise longevity and resilience.
Aesthetics: Beyond function, a lounge chair should be a visual delight. Its design should complement its surroundings, adding to the room's overall aesthetic appeal.
Functionality: Modern lounge chairs often come with added features—be it a swivel function, adjustable recline, or even built-in massagers. These features, while not essential, can significantly enhance the user's experience.
Related to: 5 Best Pool Lounge Chair To Accompany Your Sunny Summer
The History of the Vitra Eames Lounge Chair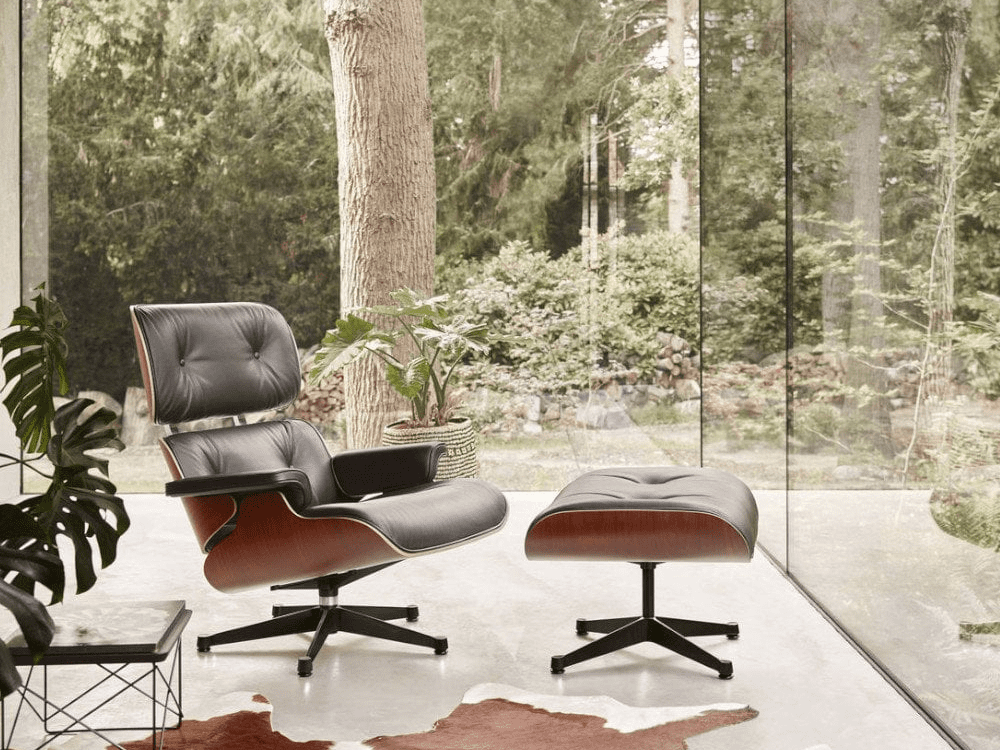 Designed in 1956 by Charles and Ray Eames, the Vitra Eames Lounge Chair was a gift for their friend, film director Billy Wilder. It quickly became an icon of modern furniture design. Inspired by the traditional English club chair, the Eameses aimed to provide the same level of comfort but with a modern twist. The result was a chair that combined soft, upholstered leather with the warmth of molded plywood.
The Allure and Distinctive Features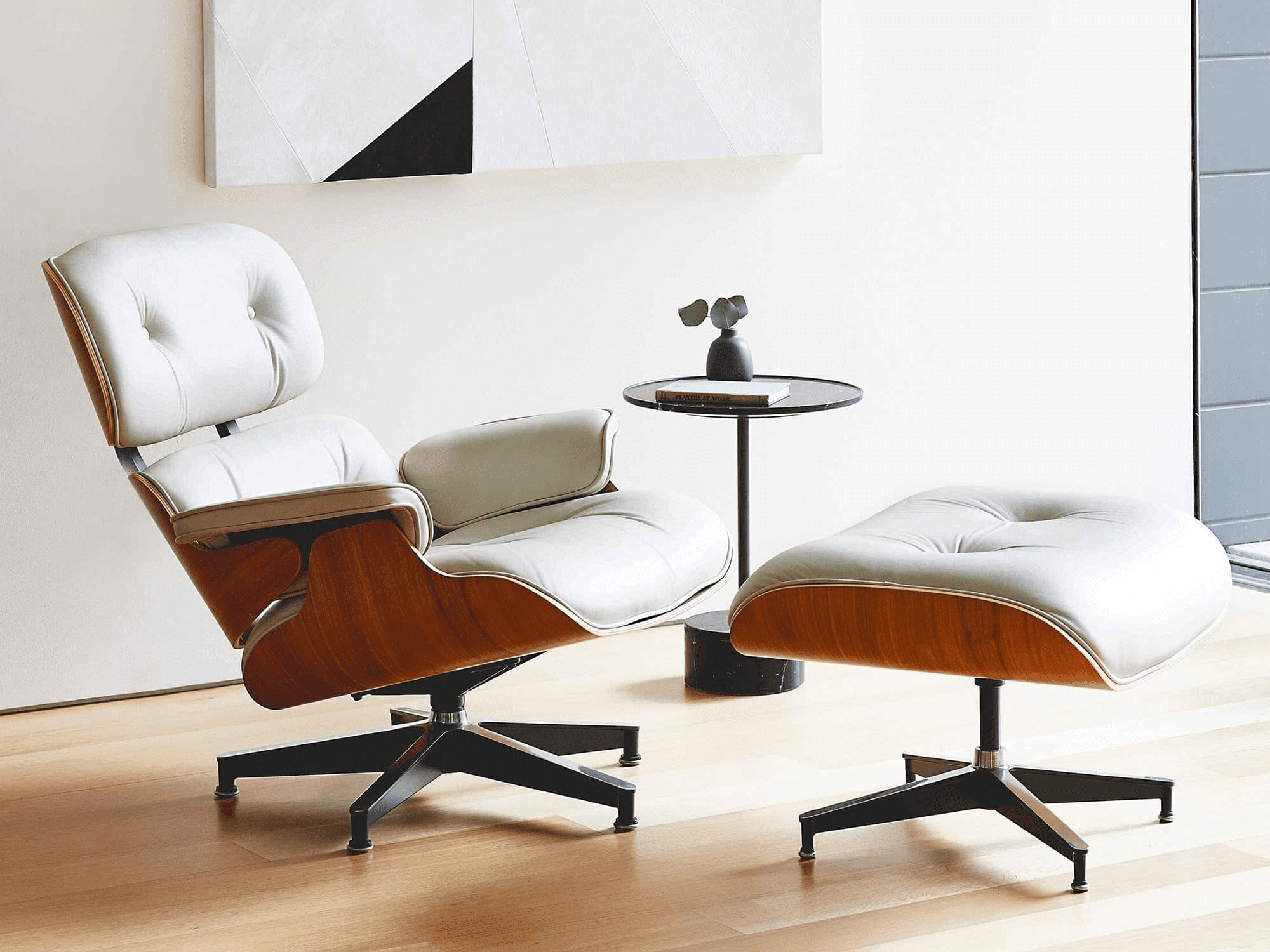 The Vitra Eames Lounge Chair is not just renowned for its iconic design but also for the myriad of features it brings to the table. It's a culmination of thoughtful design, meticulous craftsmanship, and a keen understanding of human ergonomics.
But what is it about this chair that makes it so unique? Let's delve into the standout features of the Vitra Eames Lounge Chair that set it apart from the rest.
Ergonomic Brilliance:
The Vitra Eames Lounge Chair is not just about aesthetics; it's a marvel of ergonomic design. Every curve, every angle is meticulously crafted to fit the human body's contours. Whether you're sitting for a few minutes or a few hours, the chair ensures optimal support and comfort, reducing strain and promoting relaxation.
Premium Materials:
The chair is a harmonious blend of two primary materials: rich leather and molded plywood. The leather upholstery, soft and supple, adds a touch of luxury, while the molded plywood, with its visible wood grains, exudes warmth and organic beauty. Together, they promise both durability and timeless elegance.
Artisan Craftsmanship:
Each Vitra Eames Lounge Chair is a testament to the art of furniture making. The attention to detail, from the precision stitching on the leather to the seamless integration of the plywood layers, showcases unparalleled craftsmanship. It's not just a chair; it's a work of art.
Timeless Design:
One of the most striking features of the Vitra Eames Lounge Chair is its timeless design. While it was conceptualized in the 1950s, its appeal is universal, making it as relevant today as it was back then. Its modern yet classic design ensures that it fits seamlessly into various decor styles, from contemporary to traditional.
Adjustable Recline:
Understanding the varying needs of relaxation, the chair offers an adjustable recline feature. This allows users to find their perfect angle of relaxation, catering to both moments of active reading and passive relaxation.
Swivel Base:
Adding to its functionality, the chair comes with a swivel base. This feature allows for gentle rotation, providing the user with the flexibility to adjust their orientation without having to reposition the entire chair.
Iconic Ottoman Pairing:
The Vitra Eames Lounge Chair is often paired with its equally iconic ottoman. This pairing not only enhances the aesthetic appeal but also elevates the comfort level, allowing users to put up their feet and relax in a fully reclined position.
Related to: Selecting The Best Eames Office Chair Replica In 2023

Sohnne's Selection in Achieving Elegance
While the Vitra Eames Lounge Chair is in a league of its own, there are other notable lounge chairs in the market. So if the Vitra Eames Lounge Chair is out of your budget, here are some of Sohnne's alternative to adress that issue. Experience the elegance and comfort of the Eames design without the hefty price tag.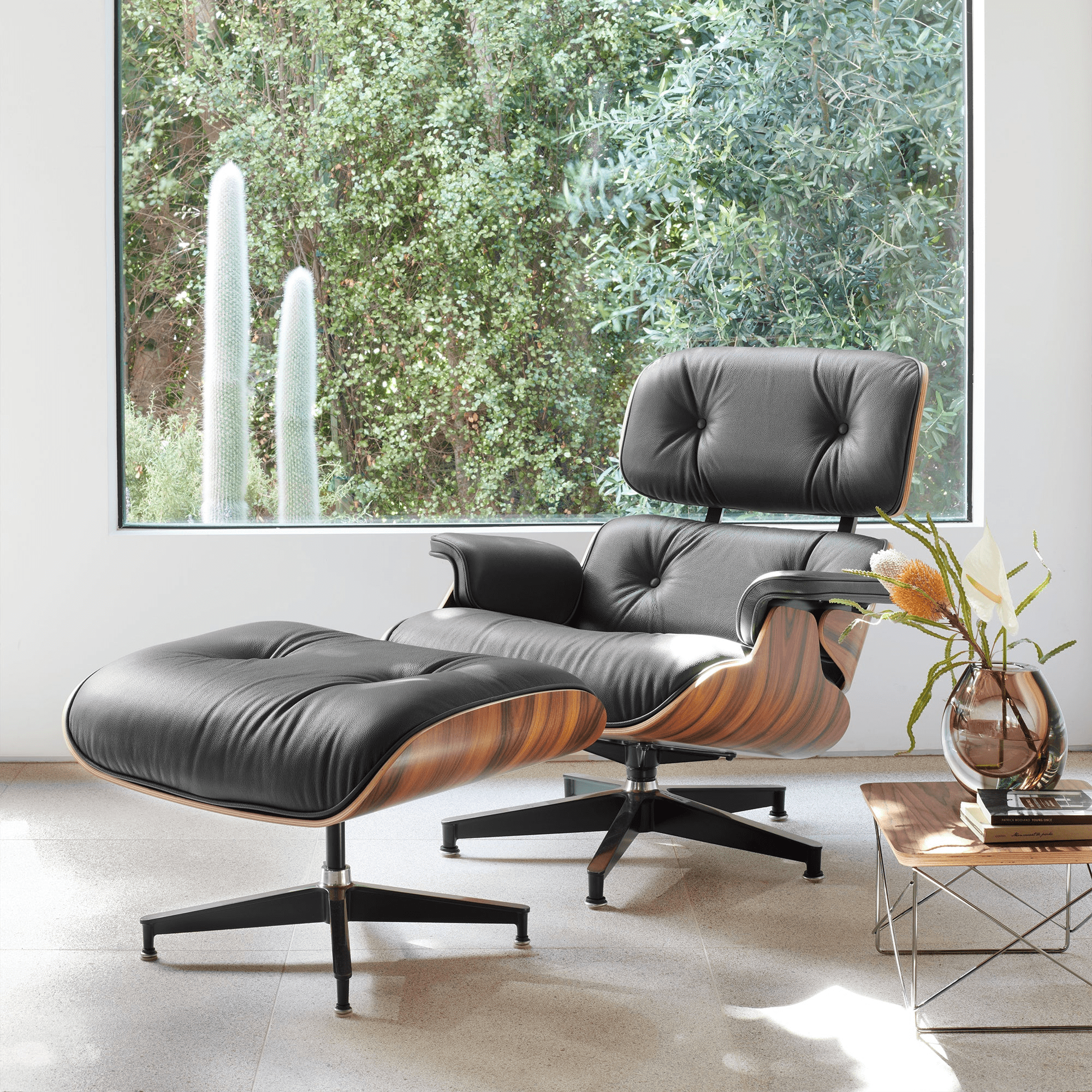 Elevate your space with the Eames Lounge Chair and Ottoman Replica – Premier Tall Version. A symbol of mid-century executive style, this iconic chair combines timeless design with unmatched comfort. Crafted with top-grain leather and stainless steel, it promises luxury and durability. Experience the grandeur of the taller version, designed for supreme relaxation. A collector's dream and a design muse, it's an enduring investment for any sophisticated setting.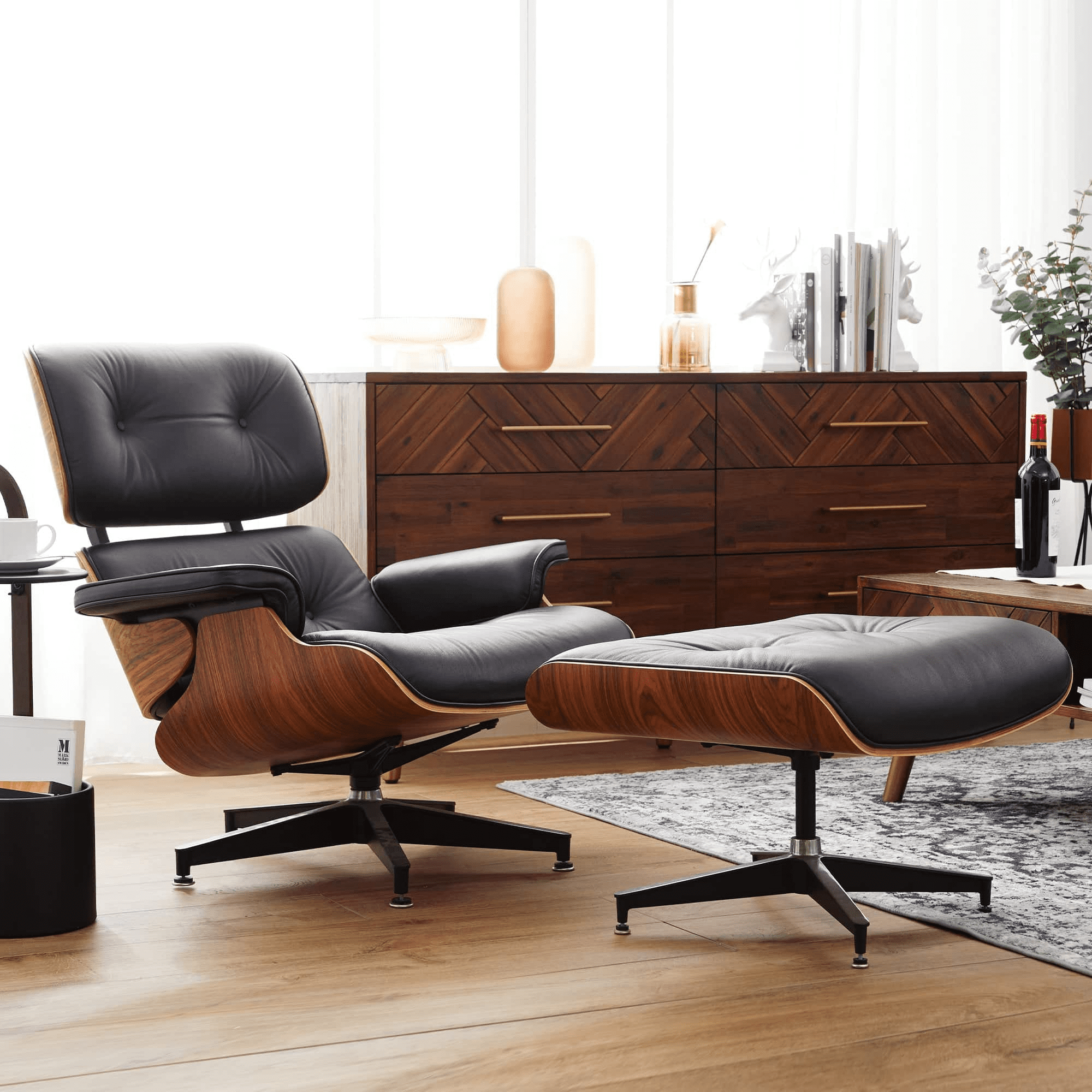 Indulge in the timeless luxury with the Eames Lounge Chair and Ottoman Replica. Boasting over half a century of iconic design, this chair seamlessly blends ultra-plush padding with genuine leather for unparalleled comfort. Meticulously crafted, each detail reflects unmatched precision, making it more than just furniture—it's art. A symbol of sophistication, its presence elevates any space. Embrace a legacy of style and comfort.
Conclusion
In conclusion, the Vitra Eames Lounge Chair is more than just a piece of furniture—it's a testament to timeless design, comfort, and craftsmanship. Whether you're a design enthusiast or someone seeking the ultimate lounge chair, the Vitra Eames is a worthy contender and the perfect accessory in any space it is added to. Both in terms of vanity and functionality.
FAQ
What makes the Vitra Eames Lounge Chair so special compared to other lounge chairs?
The Vitra Eames Lounge Chair stands out due to its iconic mid-century design, crafted by renowned designers Charles and Ray Eames in 1956. Its unique combination of molded plywood and luxurious leather upholstery showcases a blend of comfort, craftsmanship, and timeless aesthetics, making it a sought-after piece in modern furniture.
Is the Vitra Eames Lounge Chair worth the investment given its premium price tag?
Absolutely. The Vitra Eames Lounge Chair is not just a piece of furniture but an investment in design history and quality. Its enduring appeal, coupled with top-notch materials and craftsmanship, ensures that the chair retains its value and charm over the years, often becoming a cherished heirloom.
How do I care for and maintain my Vitra Eames Lounge Chair to ensure its longevity?
To ensure your Vitra Eames Lounge Chair lasts for generations, it's essential to regularly dust it using a soft cloth and avoid direct sunlight to prevent the leather from fading. For spills, wipe immediately with a damp cloth. Periodic conditioning of the leather will also help maintain its luster and suppleness.