Living rooms are the heart of any home – a place for relaxation, entertainment, and making memories. Central to this communal space is the seating, and with the available options, choosing the right types of living room chairs can be both exciting and overwhelming. It's not just about selecting a piece that fits your decor; it's about finding a chair that speaks to your lifestyle, whether it's for unwinding after a long day or providing ample seating for guests.
The right chair can elevate a simple living room into a stylish sanctuary that reflects your personal taste. Moreover, with the right information and a keen eye for design, the process of choosing becomes less of a task and more of an adventure in style and comfort. This guide will walk you through the types of living room chairs to match your comfort needs and aesthetic desires.
Related to: Best Living Room Chair for Sitting All Day in 2023
What Should You Look for in a Living Room Chair?
When scouting for the perfect living room chair, it's essential to strike a balance between comfort and style. Here are some key factors to consider: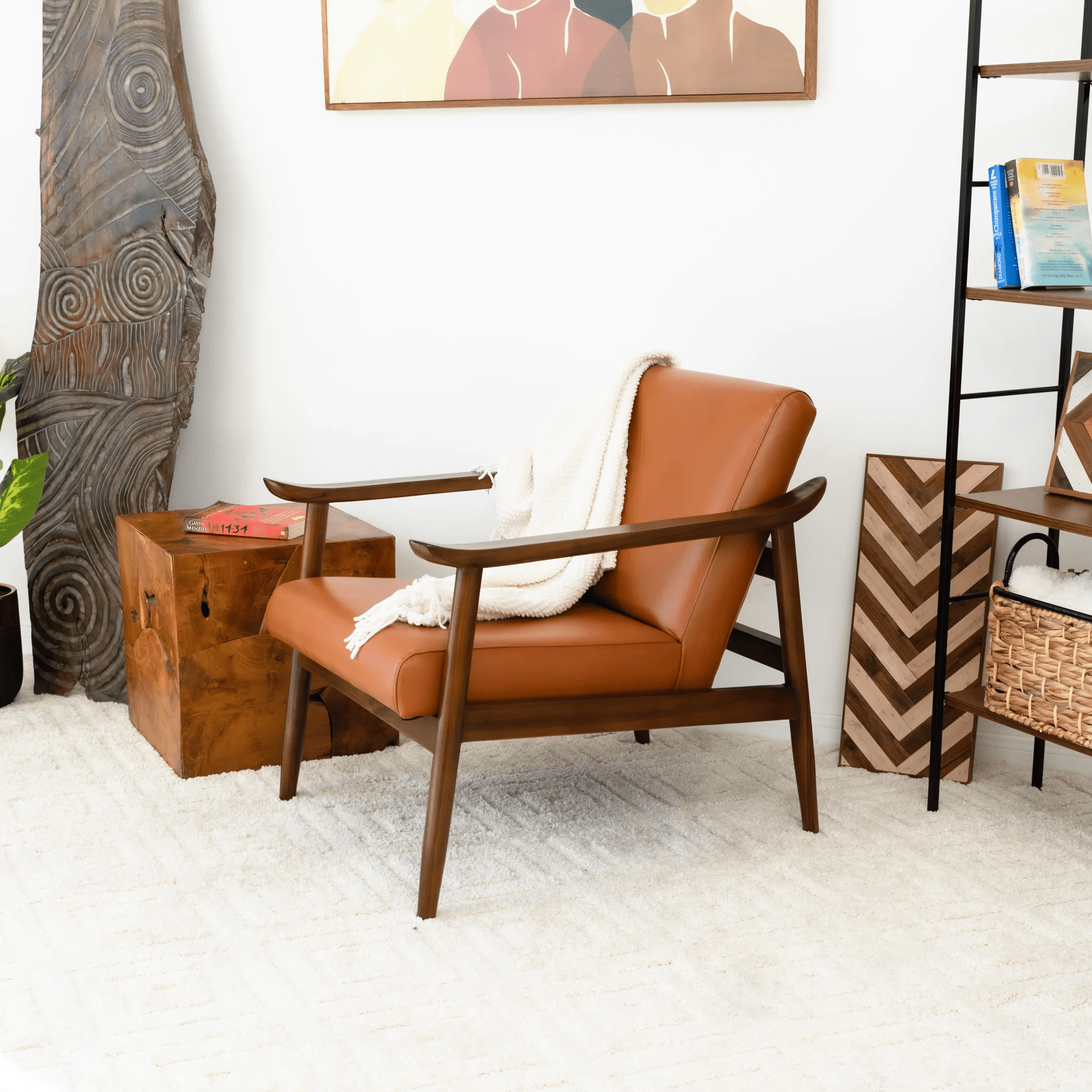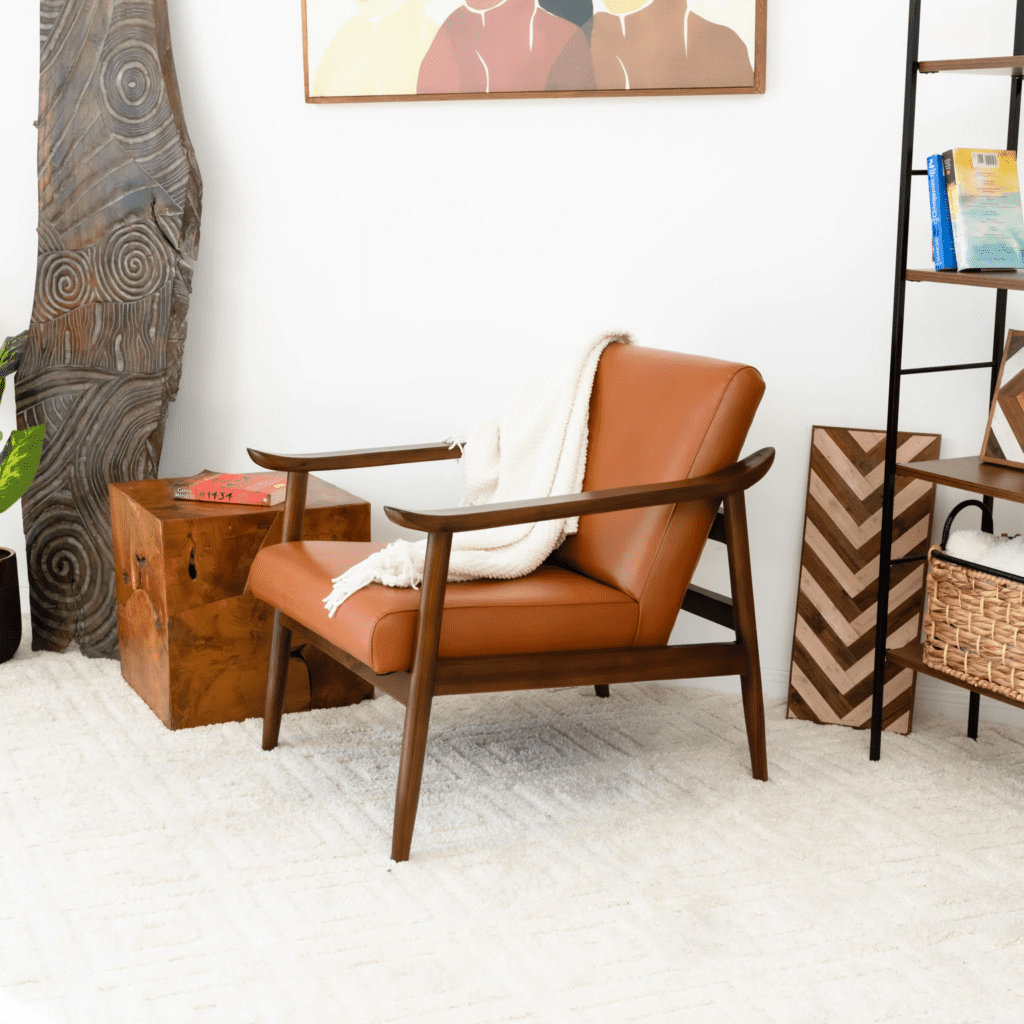 Ergonomics: The Backbone of Comfort
A chair should support your body comfortably, especially during long periods of sitting. Look for features like lumbar support, armrests, and adjustable heights that cater to your ergonomic needs.
Material Matters: A Touch of Texture and Durability
The material of your chair not only dictates its comfort but also its longevity and ease of maintenance. Whether you opt for the luxury of leather or the warmth of woven fabrics, ensure it complements your lifestyle and the room's aesthetic.
Size and Scale: Fitting in Perfectly
Consider the size of your living room and the existing furniture. Your chair should be proportional to the space, allowing for movement and harmony within the room's layout.
Design and Décor: The Visual Symphony
Your chair should resonate with the room's design theme. Whether it's a statement piece that stands out or a complementary item that blends in, it should contribute to the visual symphony of your space.
Flexibility: Adapting to Your Living Room's Rhythm
In today's multifunctional living spaces, chairs that offer flexibility, such as swivel chairs or lightweight options that can be moved easily, are increasingly popular.
Related to: Living Room With Sectional Ideas 2023: Tips And Inspiration
---
The Throne of Comfort: Exploring Armchair Varieties
Armchairs are the living room staple, offering a blend of comfort and style. From the plush embrace of a Chesterfield to the sleek lines of a modern barrel chair, armchairs come in a variety of designs to suit any décor theme. Whether you're curling up with a good book or hosting a lively discussion, there's an armchair waiting to become your living room's next royal seat.
The Audrey Atmos® Lamp from Sohnne, with its sleek lines and minimalistic design, is an ideal companion for a modern, streamlined grey office chair. Its neutral silver tone beautifully mirrors the grey chair, ensuring cohesiveness in your workspace. The adjustable light output of the Audrey Atmos® lamp provides perfect illumination, regardless of the time of day or task at hand.
Related to: Boho Living Room Furniture Ideas: Electric Comfort in a Decorating Style
The Recliner: Your Personal Relaxation Station
When it comes to ultimate relaxation, recliners are the go-to choice. With a built-in footrest and adjustable back, these chairs are perfect for those who take their lounging seriously. Available in various materials and styles, from leather to fabric, and from traditional to contemporary, recliners are a versatile addition to any living room.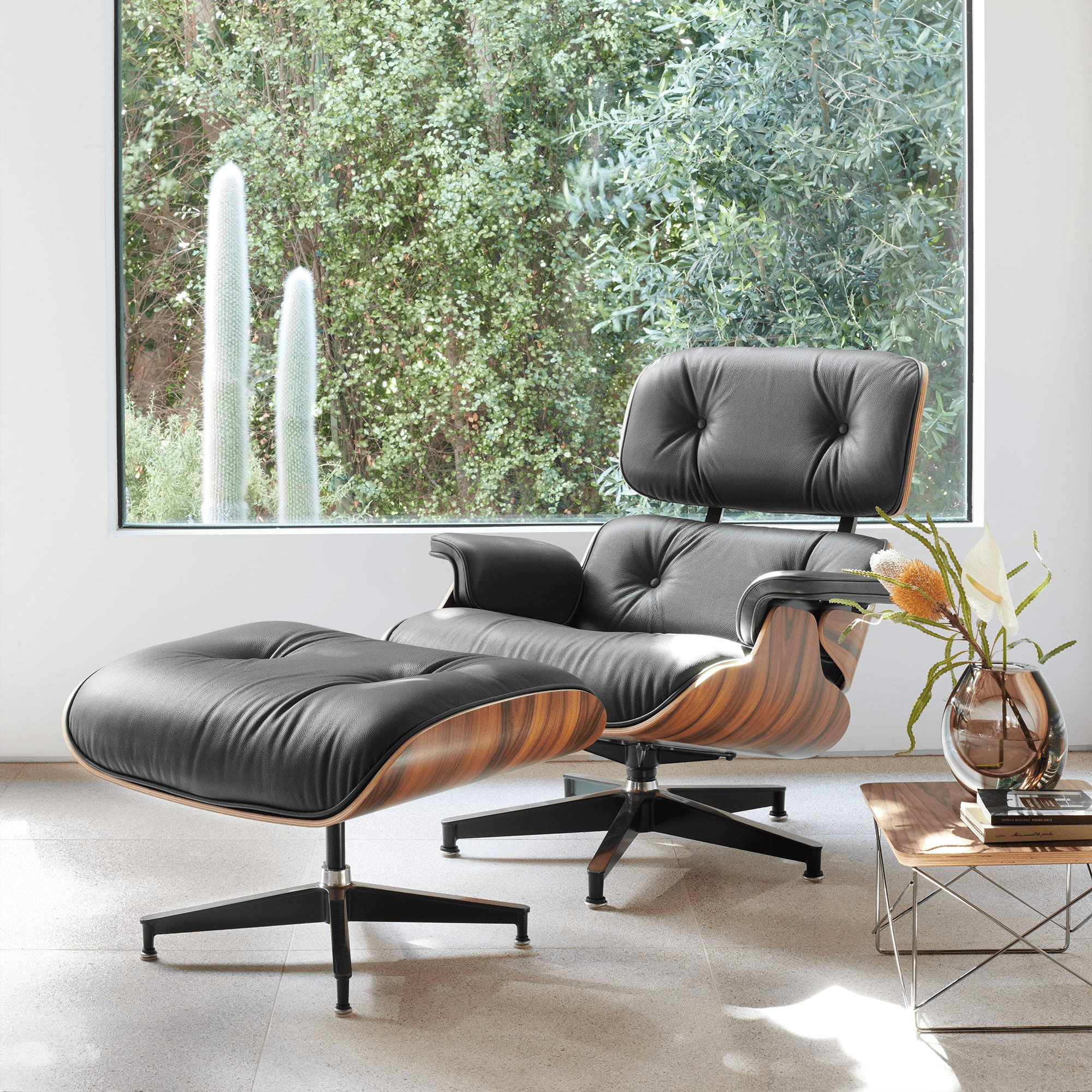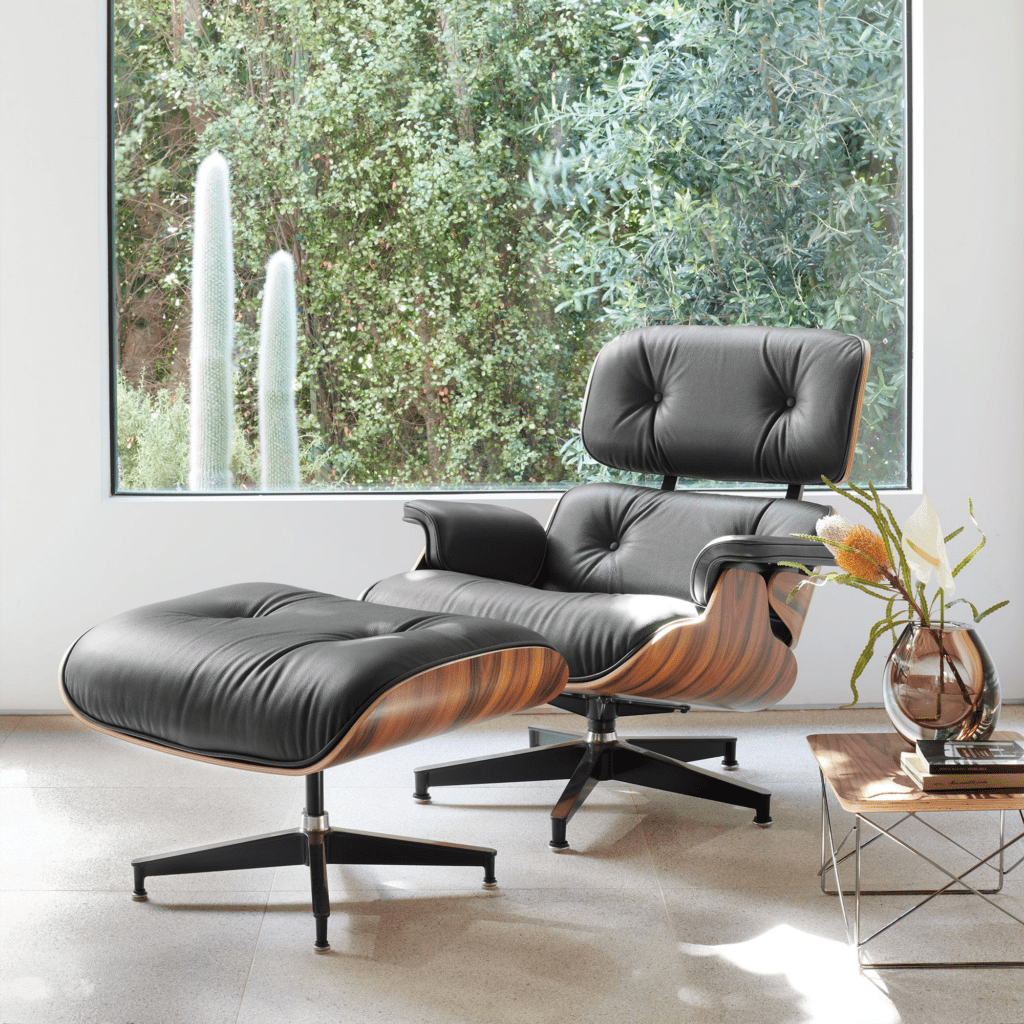 If your grey office chair has a classic design, consider pairing it with the Jester Table Lamp from Sohnne. Its warm accents and timeless elements, such as the brass finish and fabric shade, provide a lovely balance to the grey tone of the chair. The Jester Table Lamp's soft lighting also gives off a cozy feel, creating an inviting and comfortable work environment.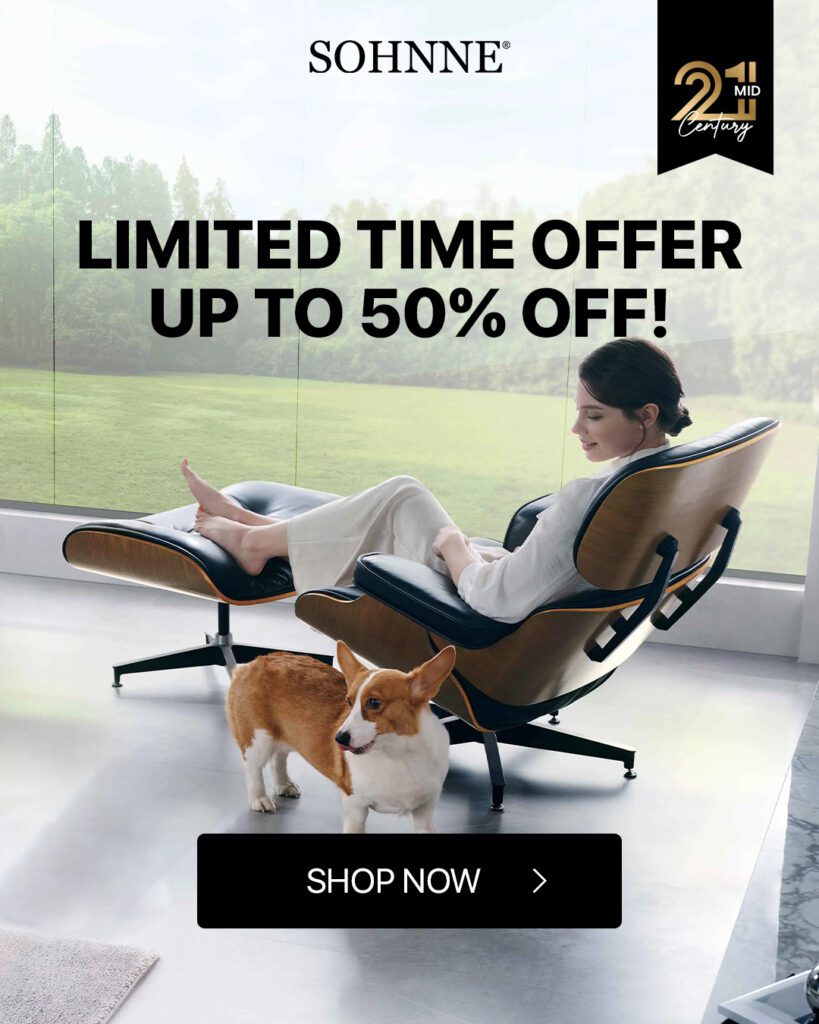 Accent Chairs: The Spice of Living Room Furniture
Accent chairs are the zest of living room décor, offering a splash of style and personality. They come in various forms, including swivel chairs, which add a playful twist to the room, and slipper chairs, which offer a sleek, armless design for a minimalist touch. Choosing the right accent chair can elevate your living space from ordinary to extraordinary.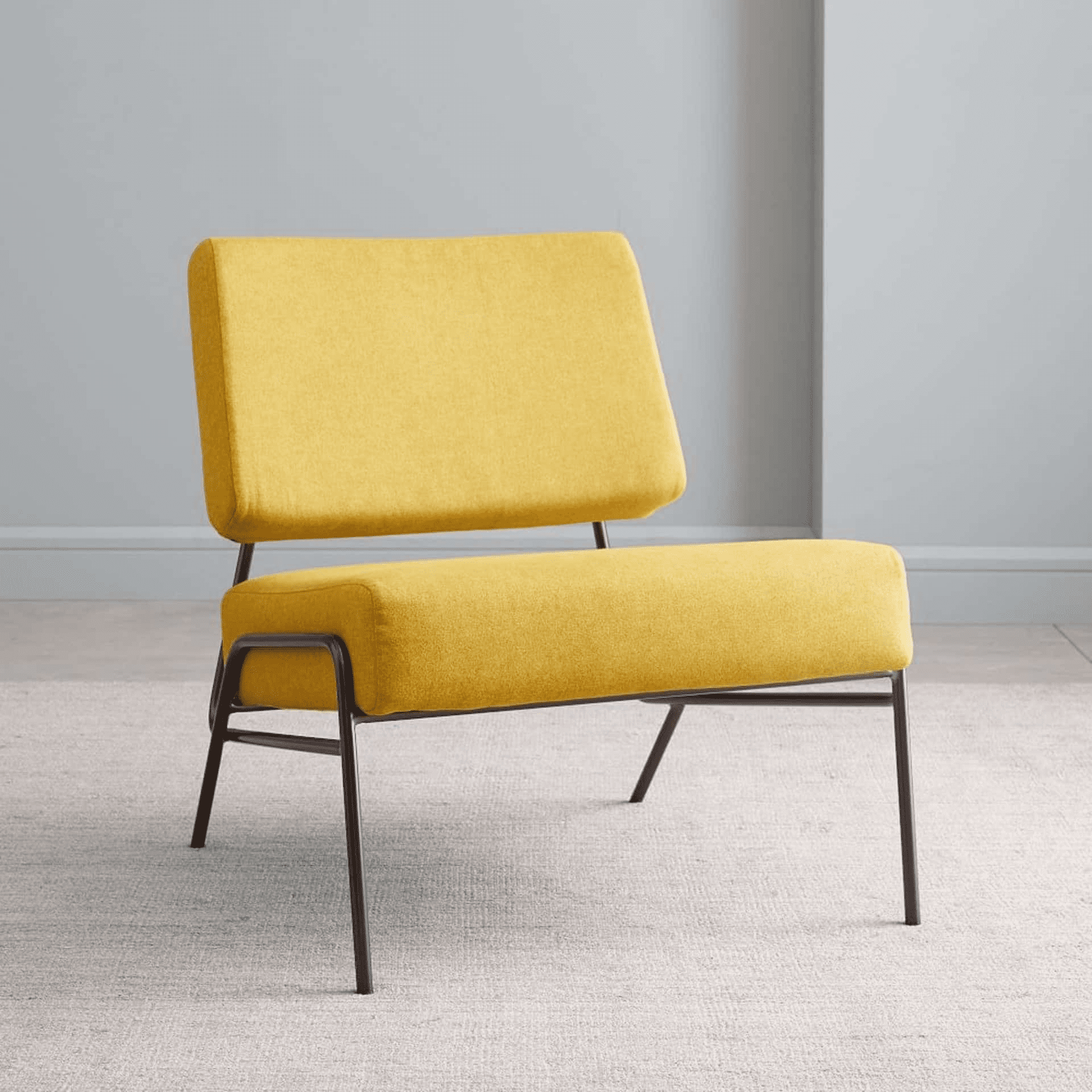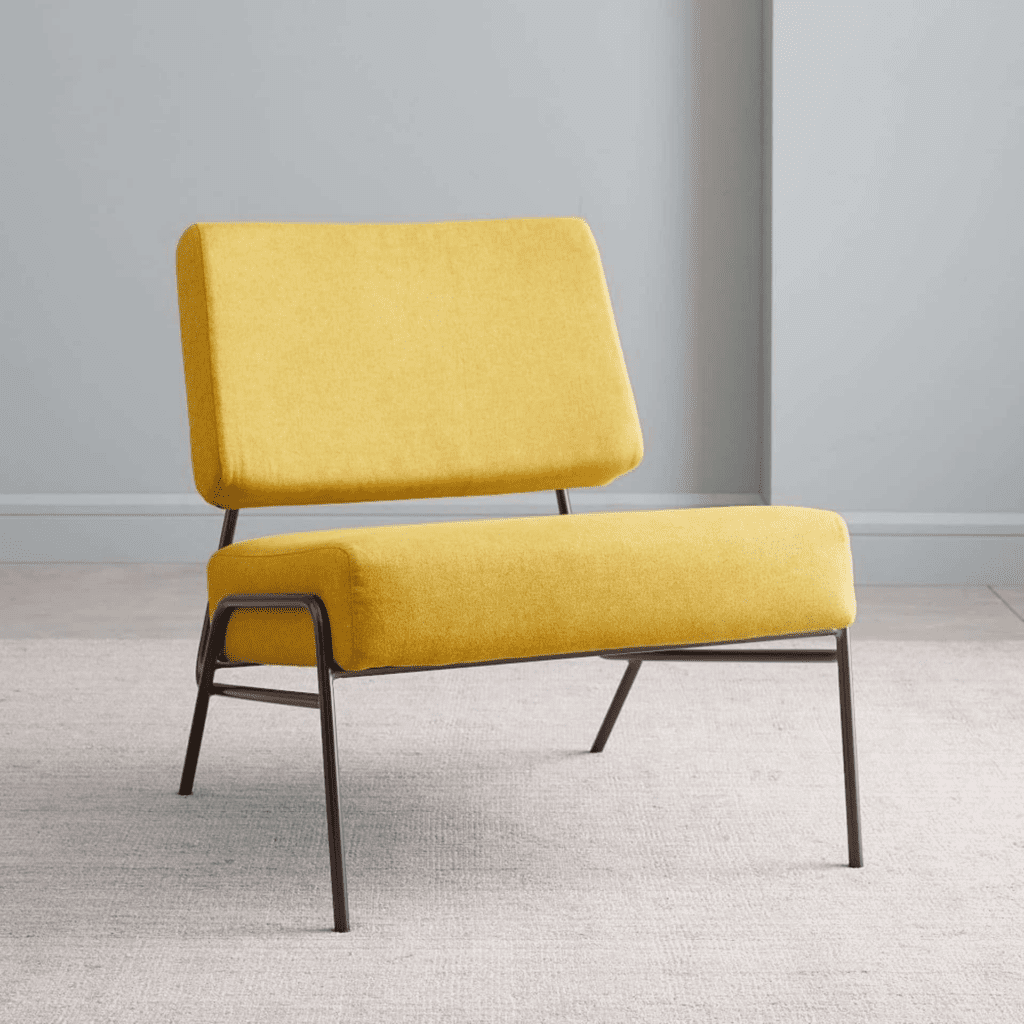 The Ely Armless Chair is where mid-century charm meets modern sophistication. This trendy chair, with its sleek metal frame and high-density sponge, promises to add a pop of style and an exceptional level of comfort to your living room. Its armless design and solid color hue make it a versatile piece for any decor style, while adjustable foot caps ensure stability on any surface. Perfect for the living room or office, this chair is more than just an eye-catching design; it's a testament to timeless elegance and comfort.
The Chaise Lounge: A Blend of Sophistication and Comfort
For those who love to stretch out in style, the chaise lounge is a must-have. This elongated chair combines the back support of a chair with the legroom of a couch, making it the perfect spot for an afternoon nap or a cozy reading nook. With its elegant design, the chaise lounge adds a touch of sophistication to any living room.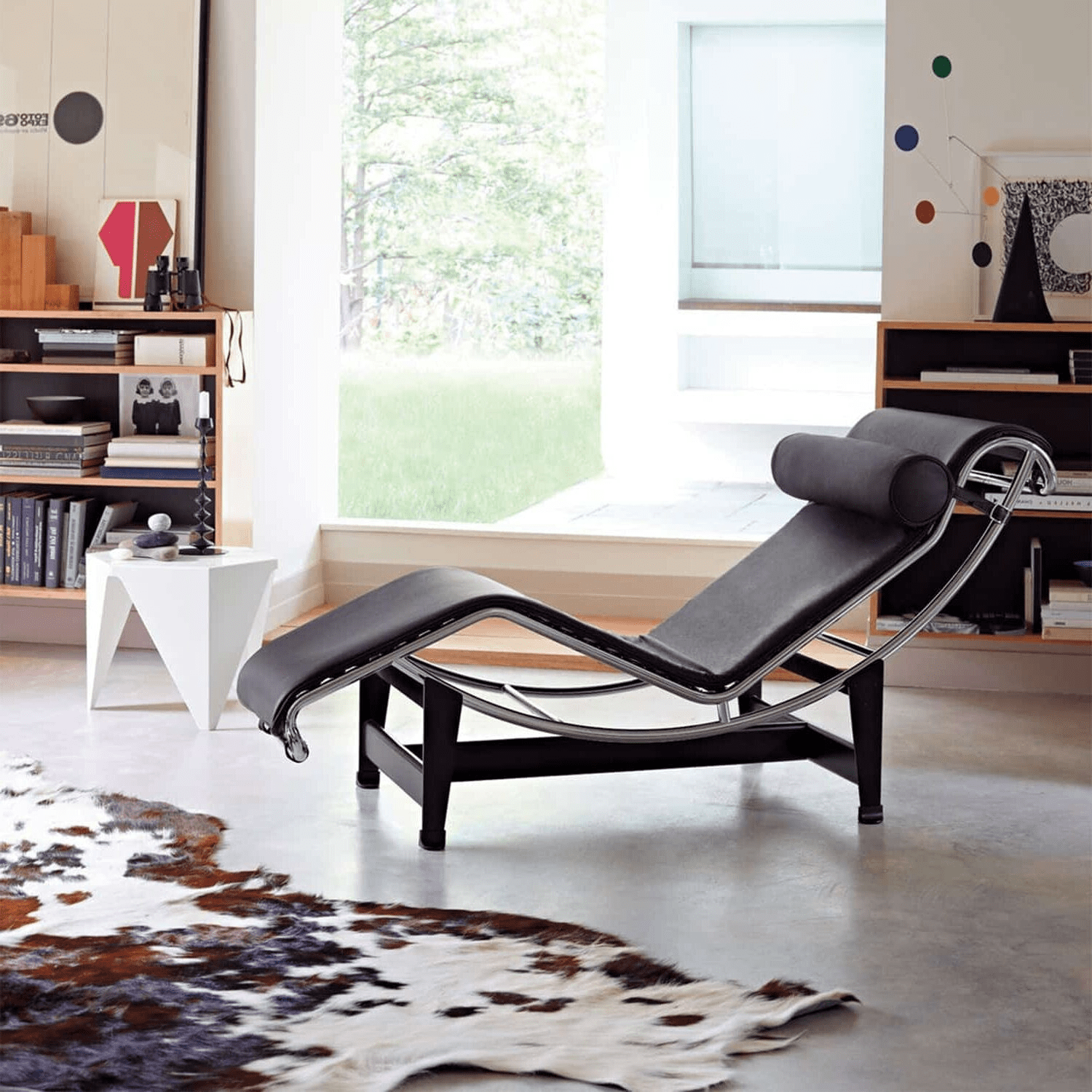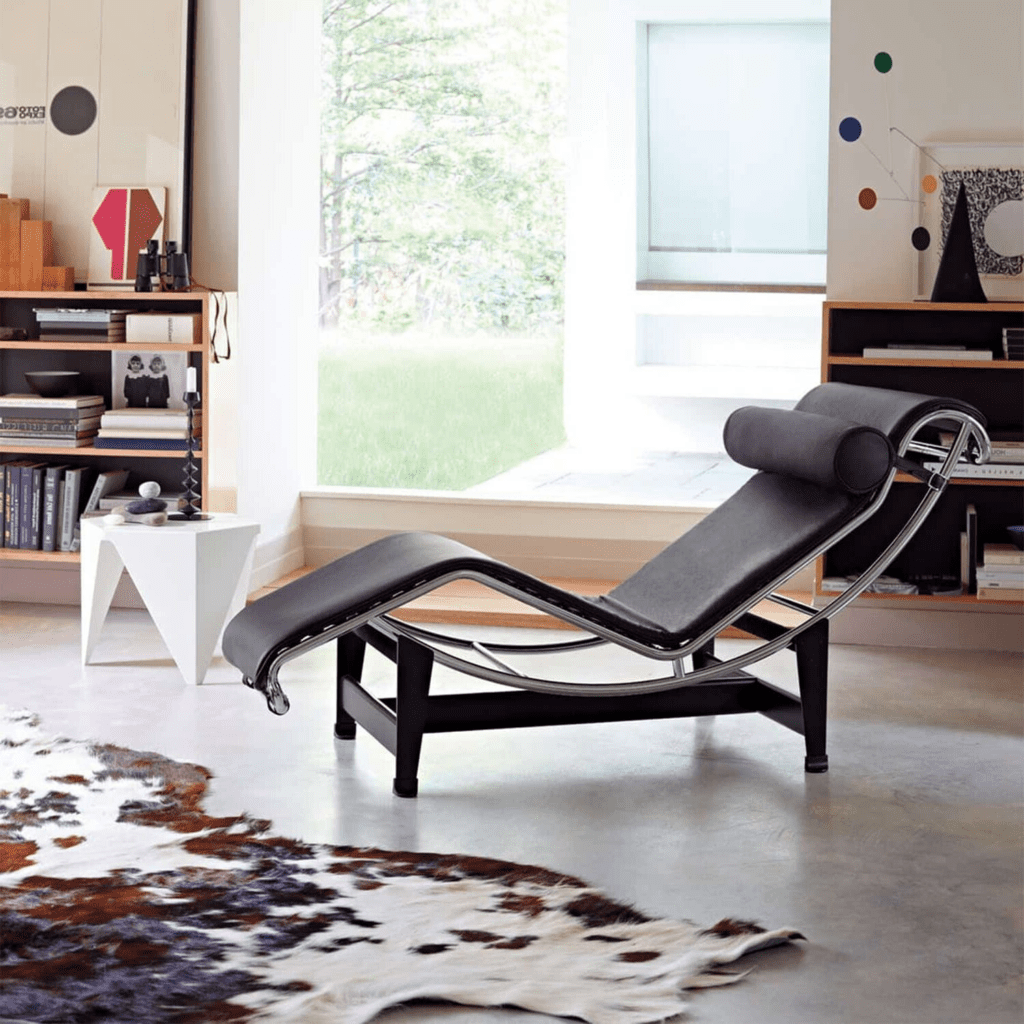 Indulge in the luxury of the LC4 Chaise Lounge Replica, a masterpiece that marries the art of design with the science of comfort. Conceived by Le Corbusier in 1928, this chaise lounge has stood the test of time as a symbol of modern elegance. Upholstered in premium Italian leather, it cradles you in a cocoon of softness, while its ergonomic design echoes the natural curves of the body for an unparalleled relaxation experience. The chair's functionality extends to a full range of reclining positions, ensuring personalized comfort. Its timeless aesthetic and stainless steel frame make it a durable and stylish choice for any living room.
The Club Chair: A Timeless Classic
Club chairs are the embodiment of classic comfort. With their deep seats and high arms, these chairs are designed for sinking into and unwinding. Often upholstered in leather and featuring nailhead trim, club chairs can add a traditional or rustic touch to your living space.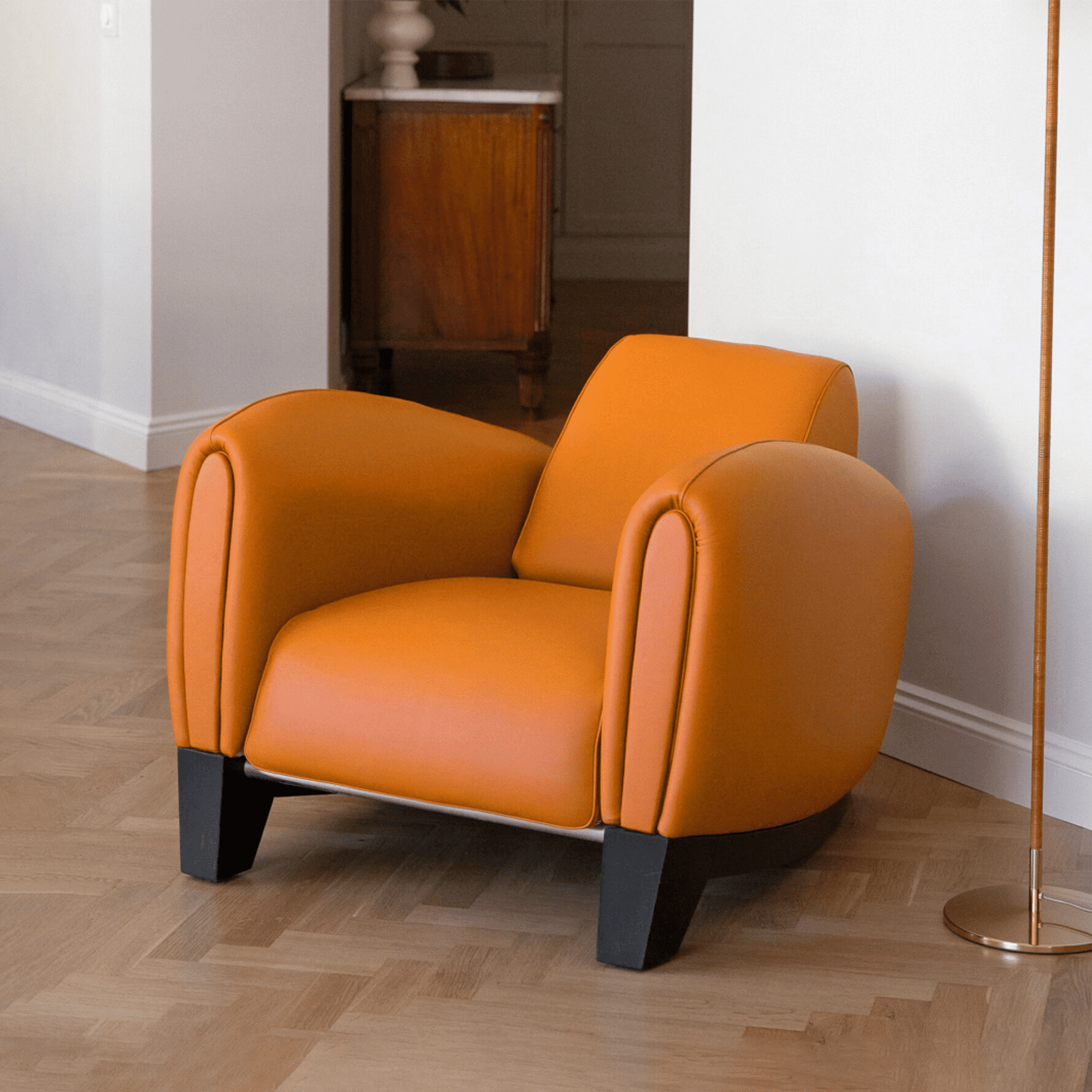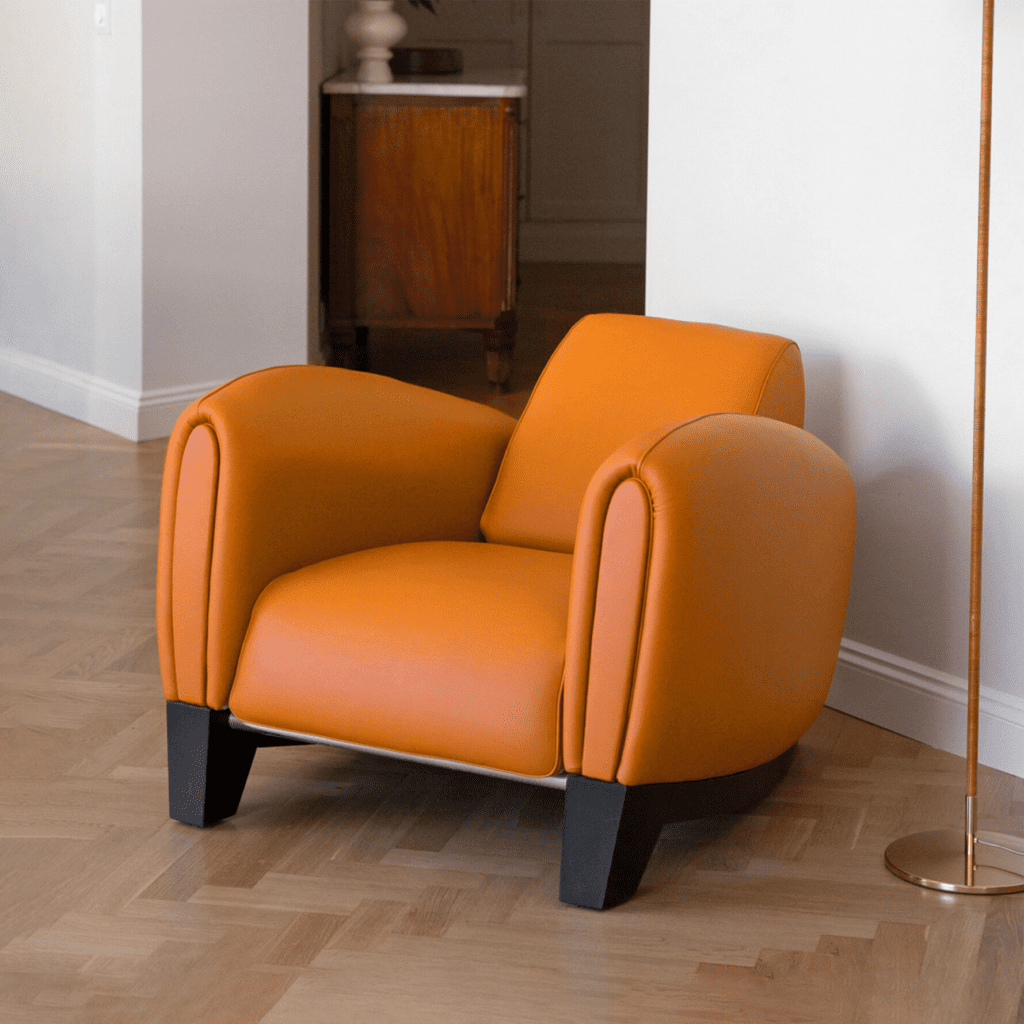 Step into the world of classic grandeur with the De Sede DS-57 Armchair Replica. Crafted with meticulous attention to detail, this chair offers a choice of high-gloss lacquer, glazed oak, or aluminum bases, each enhancing its sleek, aerodynamic structure. The armchair's design, reminiscent of the luxurious Bugatti 57, features an adjustable headrest for tailored comfort. Its striking runners and voluminous armrests promise not just a seat, but an experience, making it a distinguished addition to any living room setting.
Conclusion: Your Chair, Your Choice
The living room is a reflection of one's personal style and way of life. With the types of living room chairs available, there's a seat for every taste and need. Whether you prefer the classic comfort of a recliner or the stylish flair of an accent chair, the right choice can transform your living room into a haven of relaxation and style.
FAQ
What types of living room chairs are best for small spaces?
For small spaces, consider chairs with a smaller footprint such as slipper chairs or corner chairs. These types typically have a more compact design, freeing up valuable floor space while still providing comfortable seating.
How do I choose a living room chair for my back pain?
Look for living room chairs with ergonomic features such as lumbar support, a high back, and adjustable height and tilt functions. Chairs that offer firm support and encourage good posture can help alleviate back pain.
Can accent chairs be used as everyday living room chairs?
Absolutely, accent chairs can serve as both a decorative element and everyday seating. They are designed to be both functional and attractive, often providing the same level of comfort as more traditional living room chairs.