Transforming a small space into a cozy library is an art. It's about maximizing the available area while ensuring the room remains a sanctuary for reading and relaxation. Even the tiniest of homes can boast a stylish and functional library with the right decor ideas. Here are twelve creative library room decor ideas inspired by Sohnne.
Related to: 10 Creative Ways Small Bathroom Wall Panel Ideas Look Spacious
Library Room Decor Ideas: Corner Style Bookshelves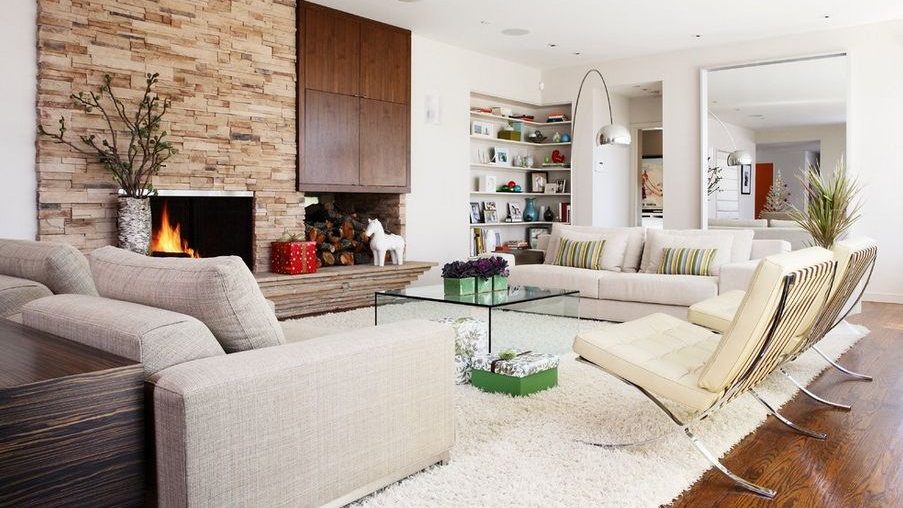 Corners in rooms often go unnoticed and unused. However, installing compact bookshelves designed for these spaces allows you to maximize every inch of your library room. This ensures that you're making the most efficient use of available space and transforms a typically overlooked area into a striking focal point.
Wood Shelving with Plaid Seating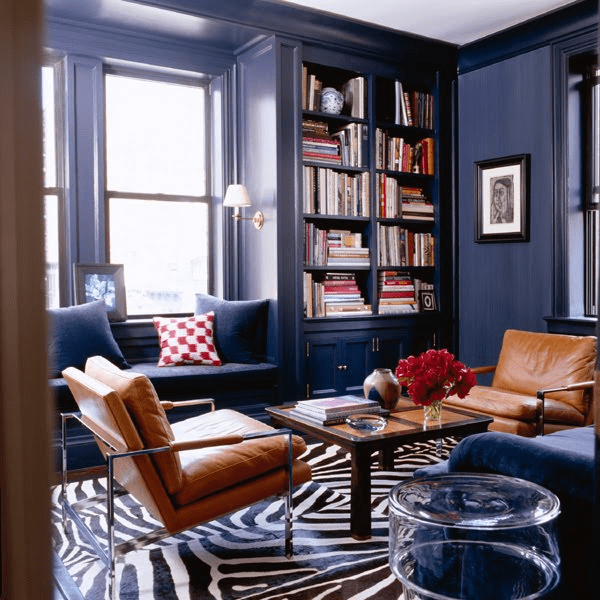 By pairing the warmth and earthiness of wood shelving with the tactile richness of plaid seating, you introduce a delightful contrast to your library room. This blend offers a functional storage solution and infuses the space with character, making the library both a practical and aesthetically pleasing haven.
---
Architectural Beauty
Every home has its unique architectural nuances. Embracing these features can elevate the design of your library. Consider opting for minimalist black shelves that seamlessly align with the existing architectural elements of your space. This ensures that there's ample room for your cherished books while also highlighting the architectural beauty of your home.
Color Coordinated Collections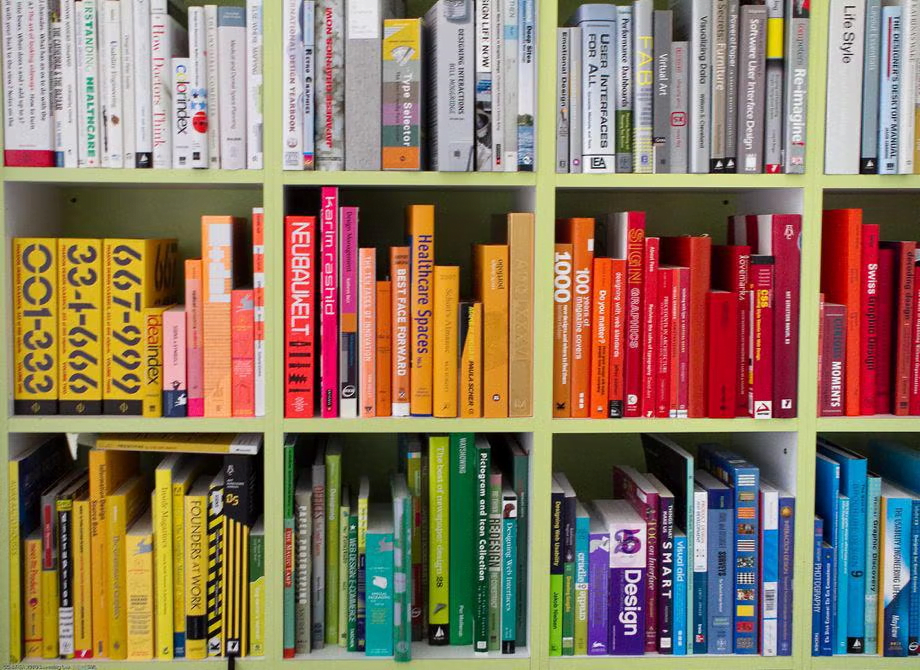 There's an art to organizing books; color coordination is one method that stands out. Arranging books by their spine colors can create a visually appealing gradient effect, making the library appear meticulously curated.
Rustic Details
Rustic design elements have a way of making a space feel cozy and inviting. By incorporating features like custom wooden benches equipped with bottom shelves or walls adorned with wood panels, you can infuse your library room with a touch of rustic charm. These elements with their natural textures and finishes.
Related to: 2023's Best Study Room Ideas For Adults Will Love!
---
Statement Painted Bookcases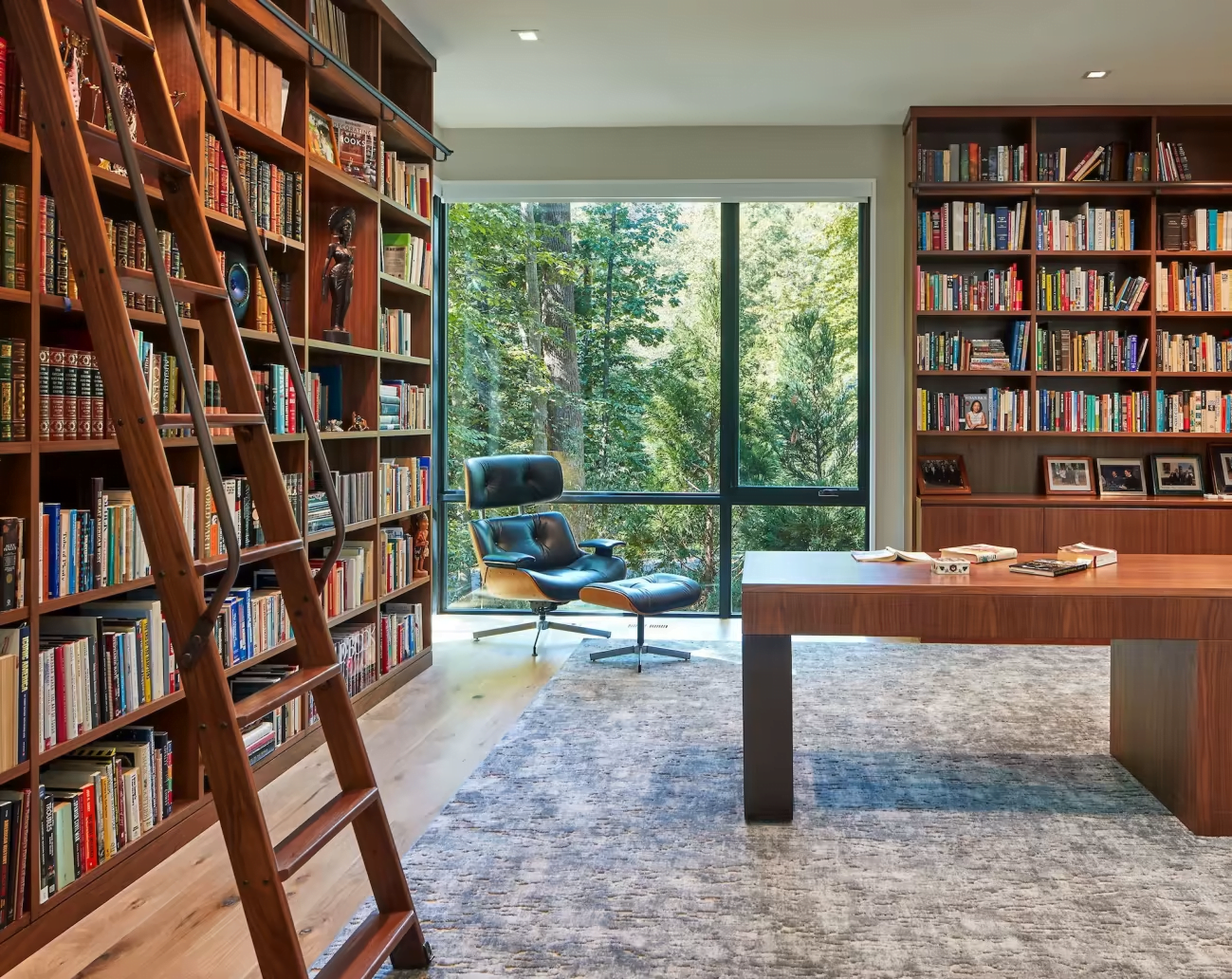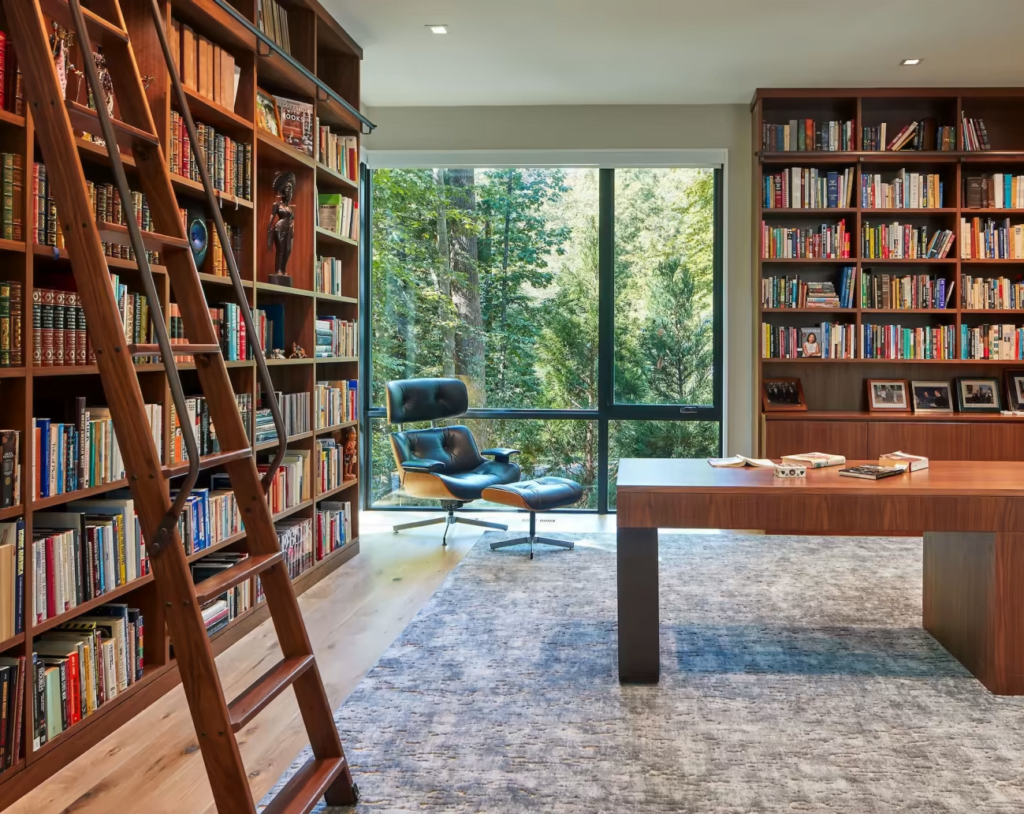 Sometimes, a splash of color can transform a library room. Consider painting the back panel of your bookcases in a bold and vibrant shade. This not only accentuates your book collection but also introduces a lively pop of color, making the room feel more dynamic and energetic.
Rolling Library Ladder
Accessing those high-up titles can be a challenge for book enthusiasts with an extensive collection. A rolling library ladder is the perfect solution. Not only is it practical, ensuring every book is easily accessible, but it also adds a touch of vintage charm and elegance to the library room.
Centered Design with Cozy Seating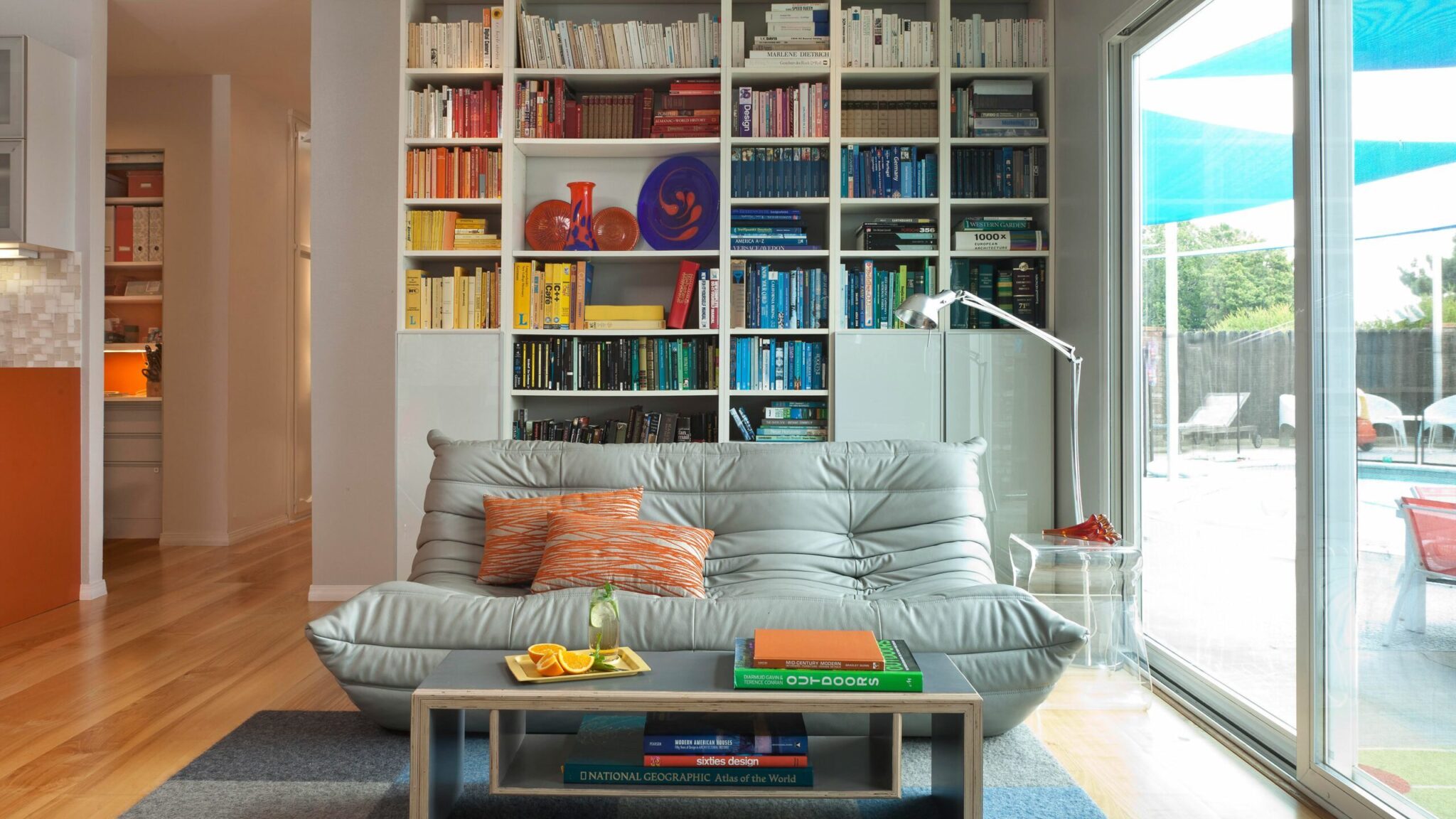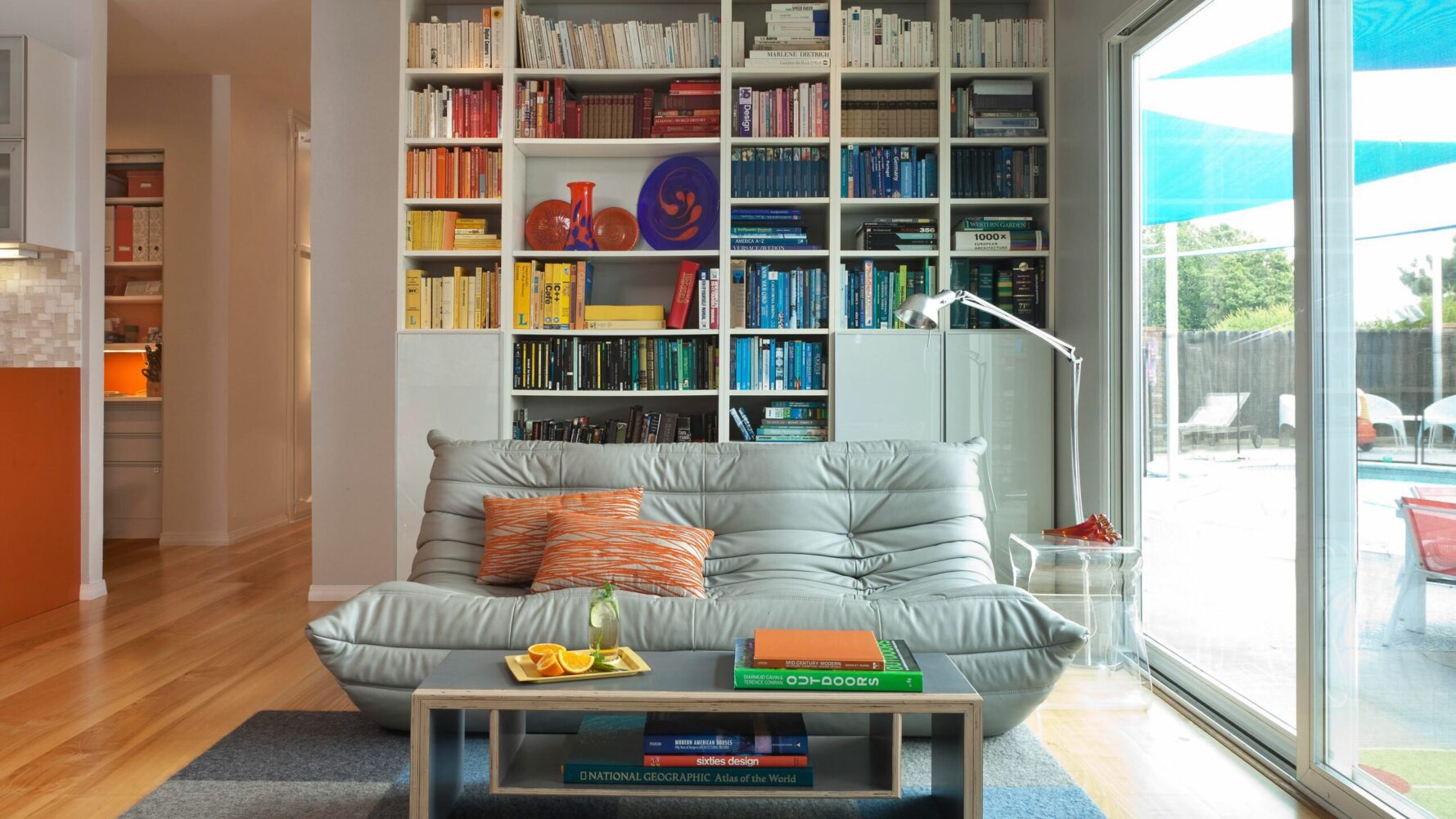 Imagine a room where the bookshelves are the star attraction, placed right in the center. Surround these shelves with plush, comfortable seating options. Add soft pillows and warm throw blankets, and you've created the perfect cozy reading nook, inviting hours of uninterrupted reading.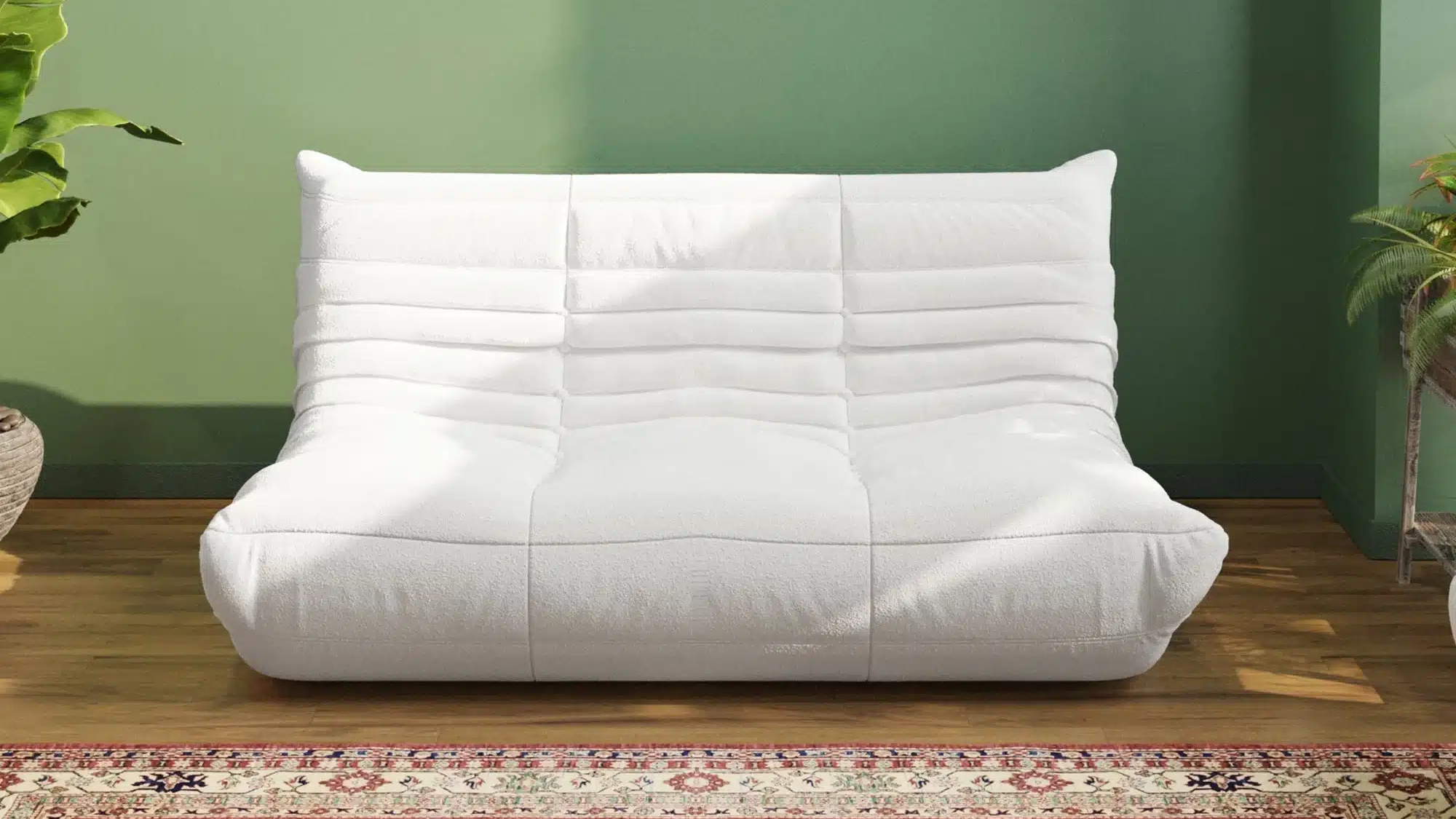 Built-in Desk Integration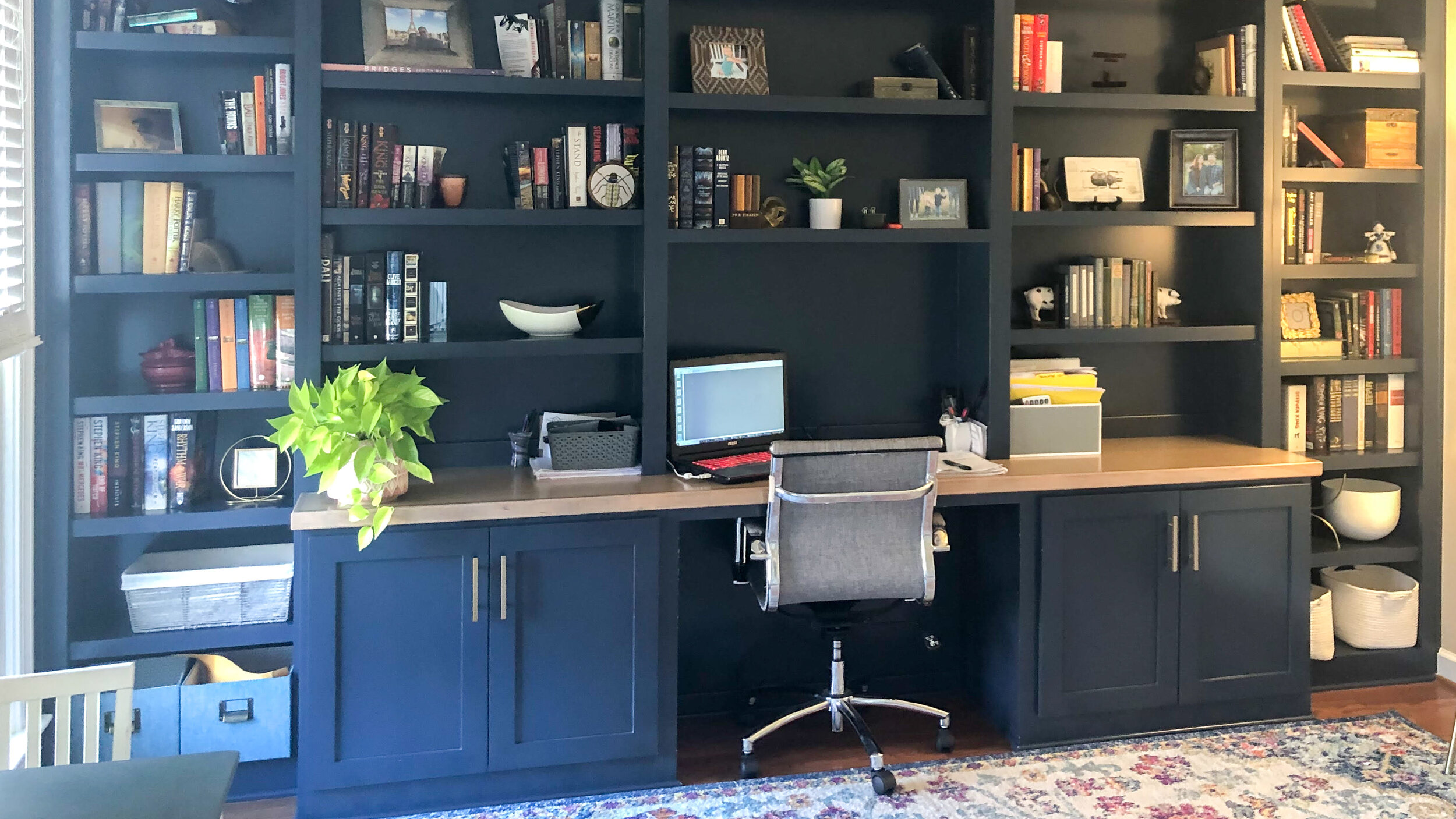 By integrating a sleek, modern desk into your built-in bookshelves, you not only maximize the use of the library room but also create a versatile spot suitable for reading a novel and catching up on work.
Related to: 5 Grey Floor Living Room Ideas For Every Personality
---
Open Framework Metal Shelves
For a more contemporary feel, consider metal shelves with an open framework design. This style not only imparts a sense of spaciousness to the room but also offers a chic, modern twist to the conventional library room.
Traditional Style with Leather Chair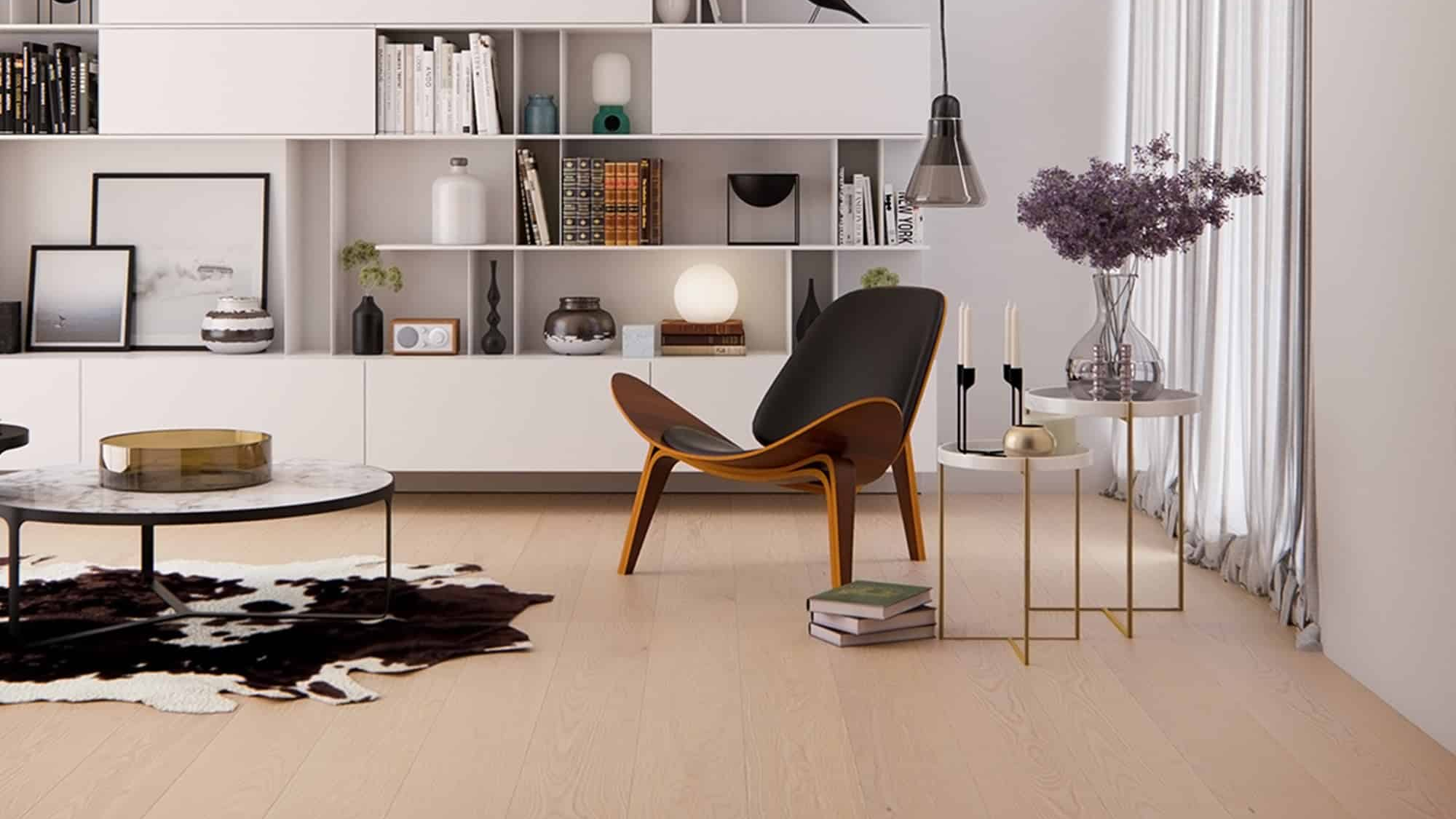 For those with a penchant for classic designs, built-in bookshelves paired with a luxurious upholstered leather chair like Shell Chair is the way to go. This combination oozes elegance, sophistication, and timeless appeal, making it perfect for those who appreciate the finer things in life.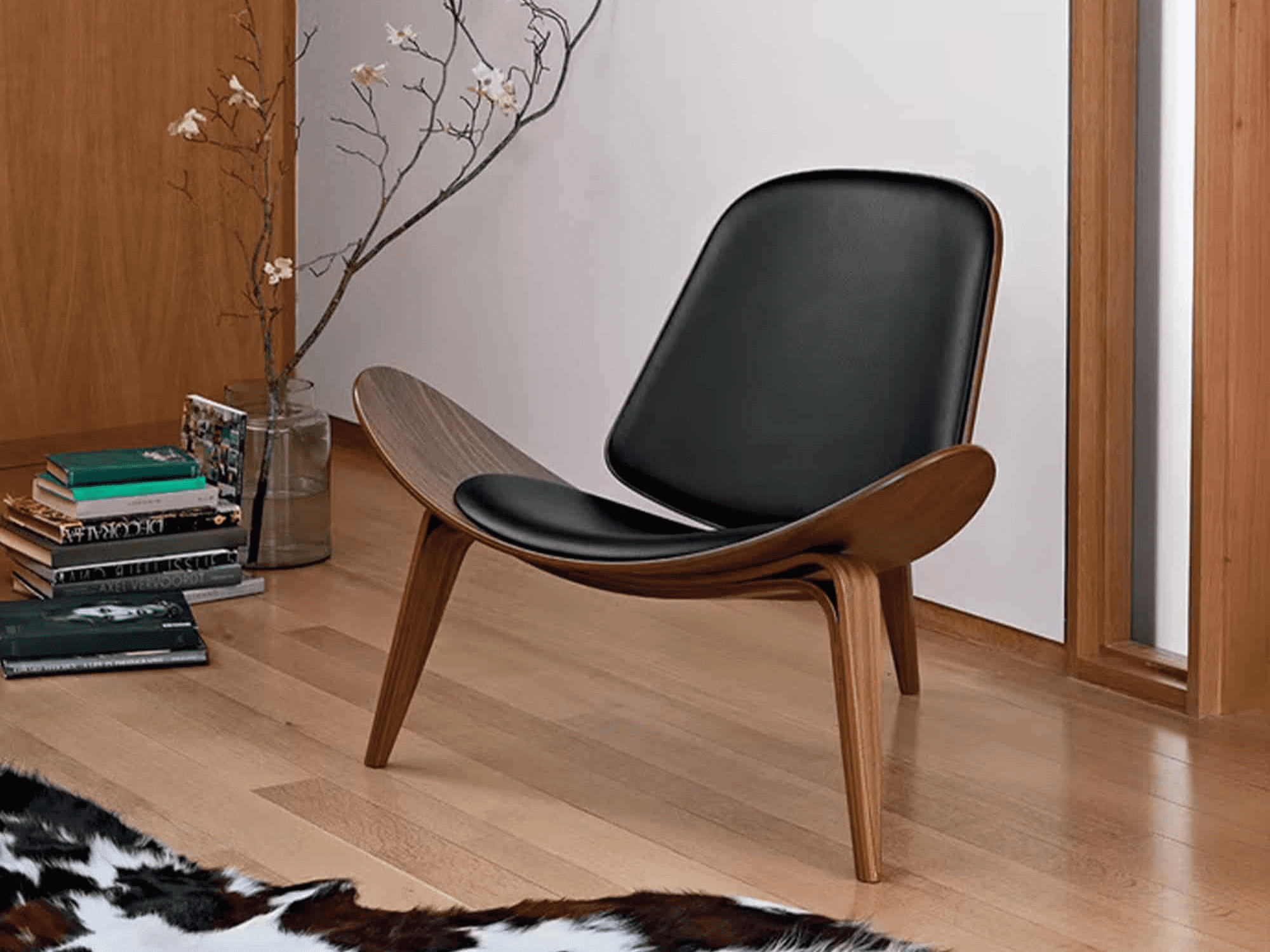 ---
Enhance with Lighting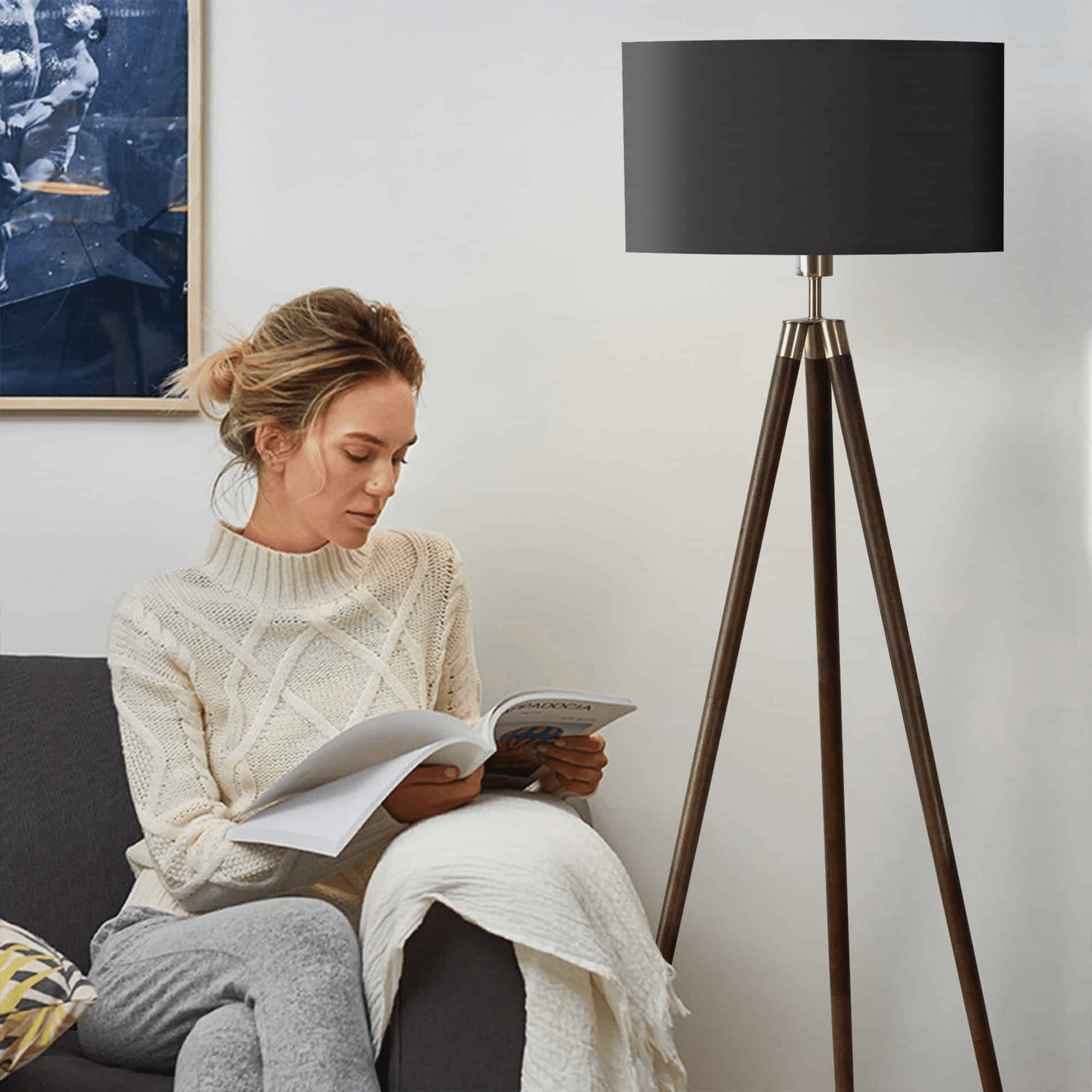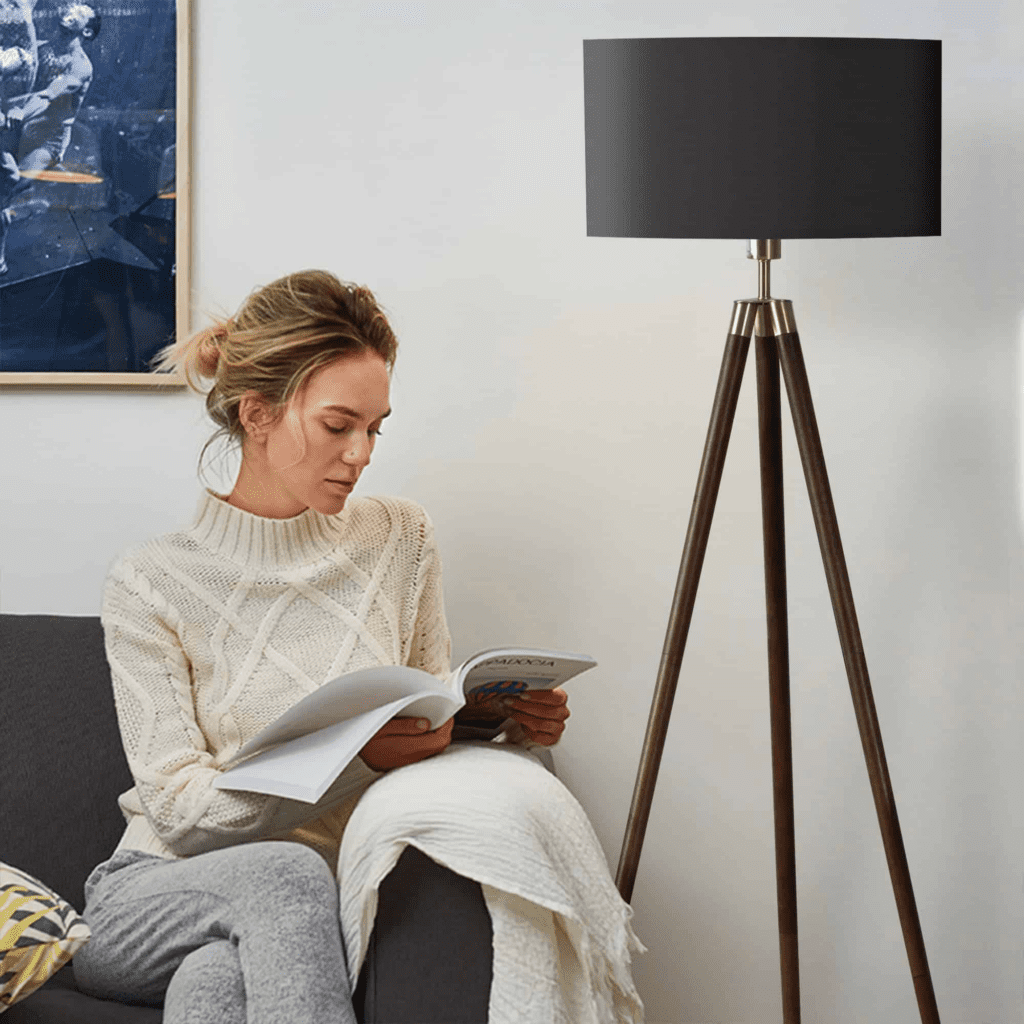 Lighting plays a pivotal role in setting the ambiance of a library room. For a library, it's essential to have the right kind of lighting, be it the soft glow from a window, the focused beam of a floor lamp, or the ambient illumination from wall-mounted fixtures.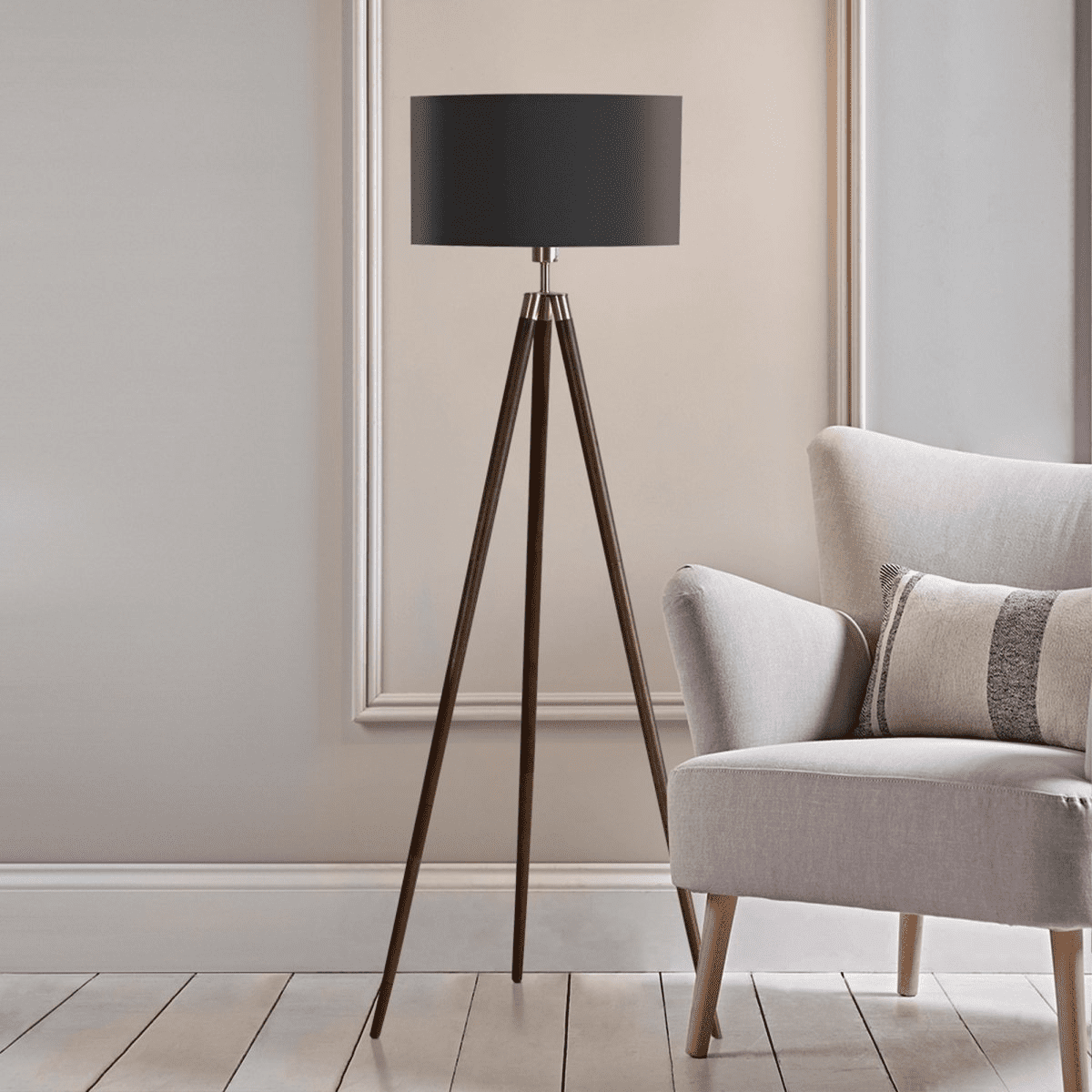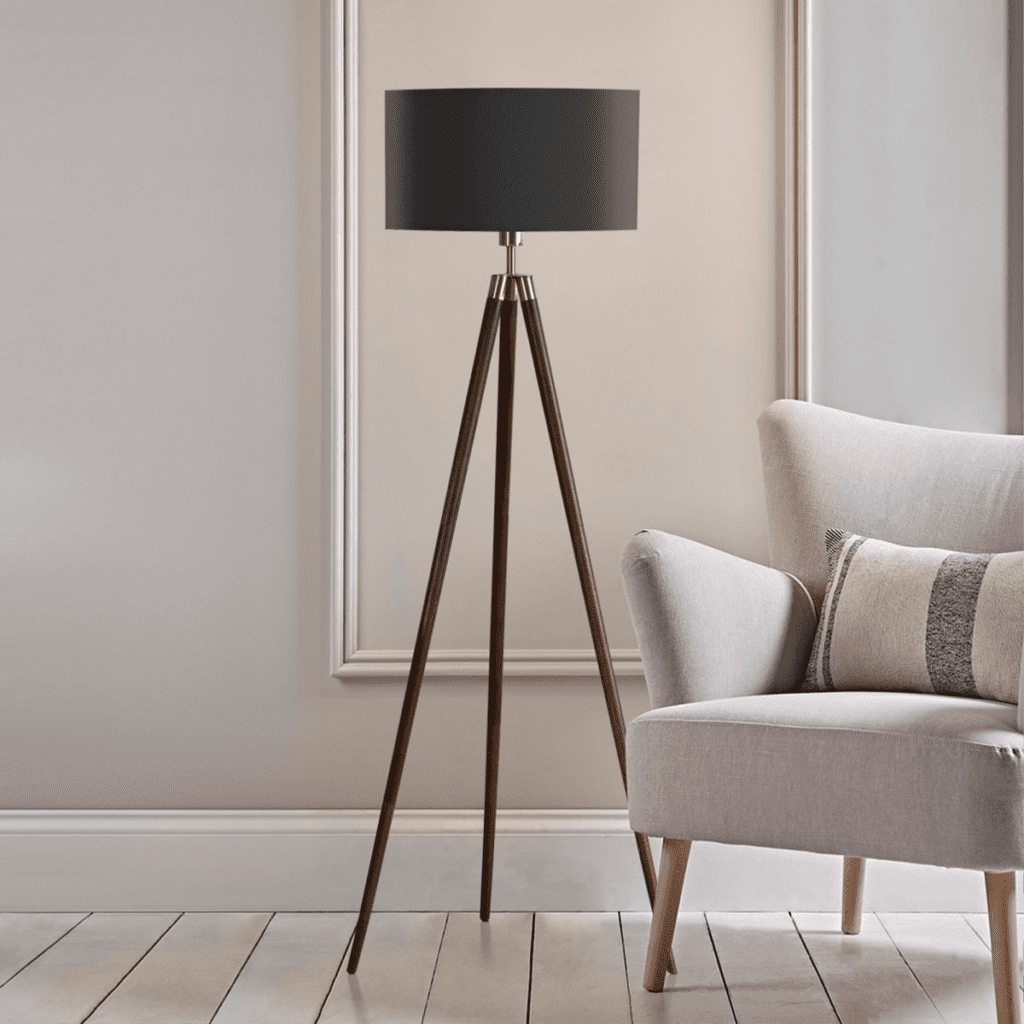 The lamp can ensure your library is well-lit not only enhancing the aesthetics but also ensuring a comfortable reading experience at any time of the day.
Related to: 2023's Best Study Room Ideas For Adults Will Love!
---
Conclusion
In conclusion, Creating a library in a small home is all about creativity and smart design choices. With these twelve ideas, you can transform any space into a reading haven that reflects your style and passion for books. Whether you're an avid reader or just love the aesthetic of a home library, these decor ideas will inspire and guide you in crafting the perfect reading nook.
FAQ
How do I choose the right bookshelf for my space?
Measure your space and consider the volume of your book collection. Think about whether you want built-in shelves, freestanding units, or wall-mounted options. The material (wood, metal, glass) and style (open framework, closed back, adjustable shelves) should align with your room's theme.
How important is lighting in a library room?
Lighting is crucial. Natural light is ideal for daytime reading, but you should also have adjustable lighting like floor lamps, table lamps, or wall-mounted lights for evening reading sessions.
Is it expensive to decorate a library room?
Not necessarily. While you can invest in high-end furniture and decor, there are also many DIY and budget-friendly options available. Thrift stores, garage sales, and upcycling projects can help achieve a beautiful library without breaking the bank.